Another year has come and gone, and we're looking forward to 2022!
Functionality is the star of the show this year, with an emphasis on storage, organic natural elements. The goal for the new year is making the kitchen work for you, whether that is smart appliances, or added workspace in more places.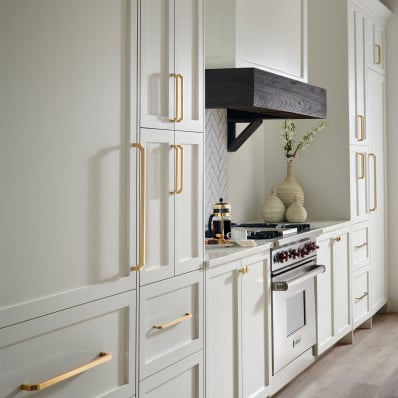 Source: Top Knobs
1. Gold Is Still Shining Bright
Whether it's gold kitchen hardware, gold lighting, or gold décor, 2022 kitchens are still full of the warm metallic tones. Large pendant lighting, and hardware that makes a statement are very prevalent, and will continue to add colour to kitchens throughout the new year.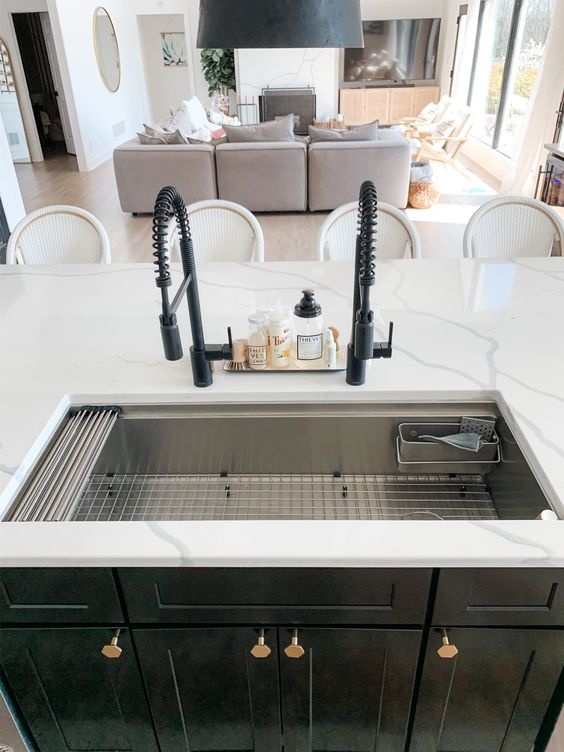 Source: Create Good Sinks
2. Make the most of your stations
Added functionality in every space is the goal for 2022. The kitchen sink is seeing the biggest upgrade, as homeowners are looking for ways to make the space more multi-purpose. Double sinks are becoming a highly desired feature, as it allows for dual purpose of food prep, and dish washing. Workstation sinks typically feature a dual basin sink, with two faucets, and a ledge to hold accessories, such as colanders and drying racks.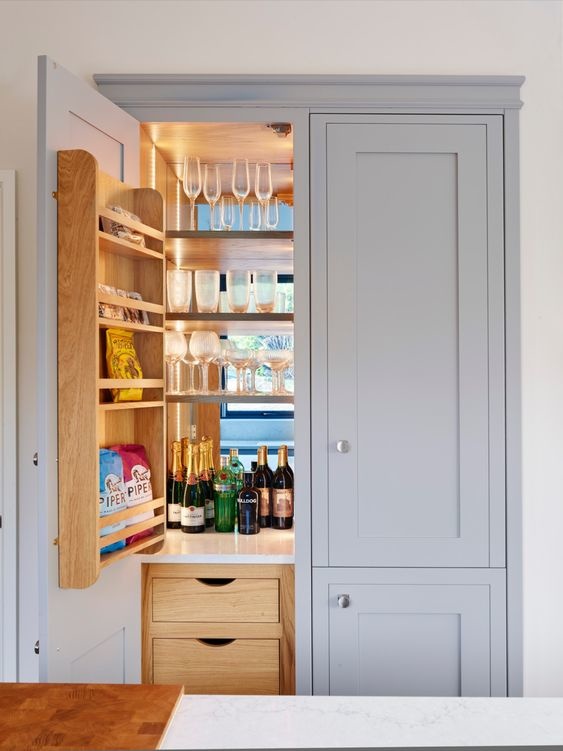 Source: Davenport
3. Customizable Appliances
The past couple years has seen the focus become shifted to more time being spent at home. Homeowners are spending more of their money on their home, as opposed to saving for a big trip. As well with delays on appliances, homeowners are opting to wait for their dream appliance, and making the big investment in those higher ticket appliances to help finish off the space. When it comes to choosing appliances in 2022, there will be a greater focus on customizability, and design features. From seamlessly blending appliances into the cabinetry with matching fronts, to coloured accent appliances, there is more focus on style and custom-built appliances.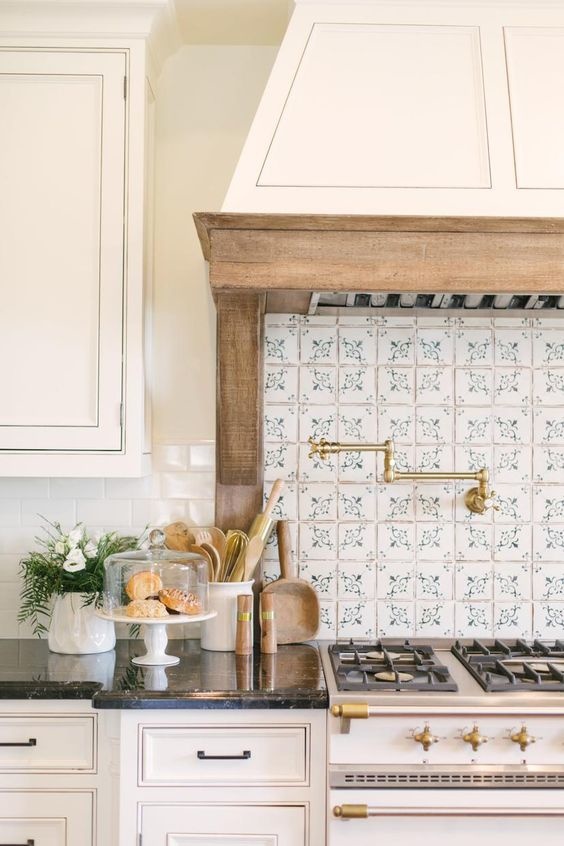 Source: Style Me Pretty
4. Make a splash with backsplash
While subway tiles remain a classic choice, there is a shift being seen towards more design centered backsplash. Added texture and dimension are on the rise, as well as using the tiles to add in extra colour to the space.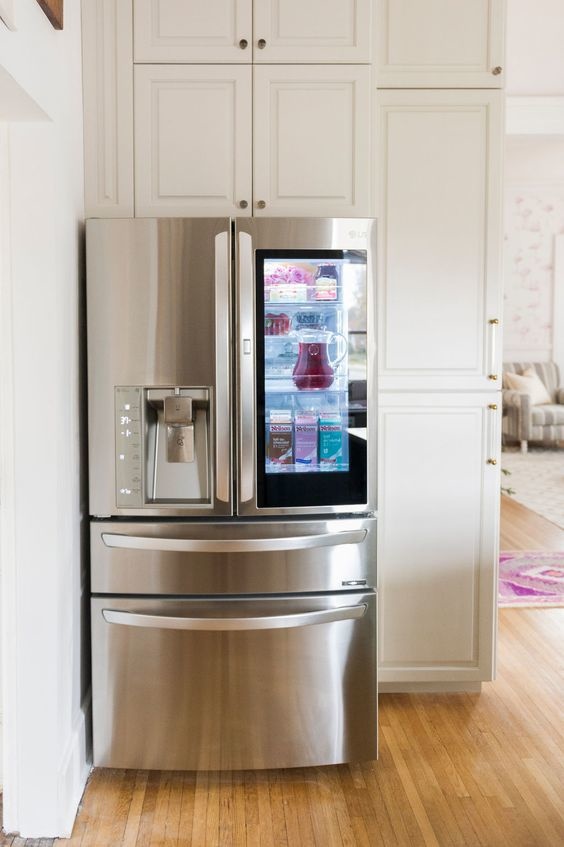 Source: The Leslie Style
5. Technology is on the rise
Smart appliances are gaining popularity this year. Added ease and functionality to the kitchen with gadgets that work for you. From fridges with touch screens to more of the kitchen being connected to wi-fi to give more of a hands-off cooking experience. Start the pre-heating before your home, control the lights with a simple demand, or be alerted to your timer from anywhere in the home. We are more connected than ever, and that rings true in the kitchen as well.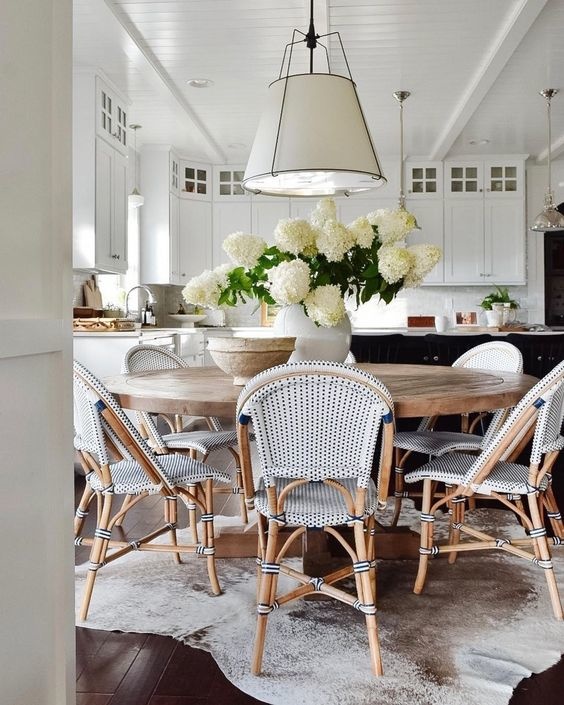 Source: One Coast Design
6. Rounded Accents
Focusing on organic clean lines, rounded the edges of tables and furniture seek to achieve a seamless integration between living spaces, and the kitchen. Comfort is the goal with this style, letting the kitchen become one with the rest of the home.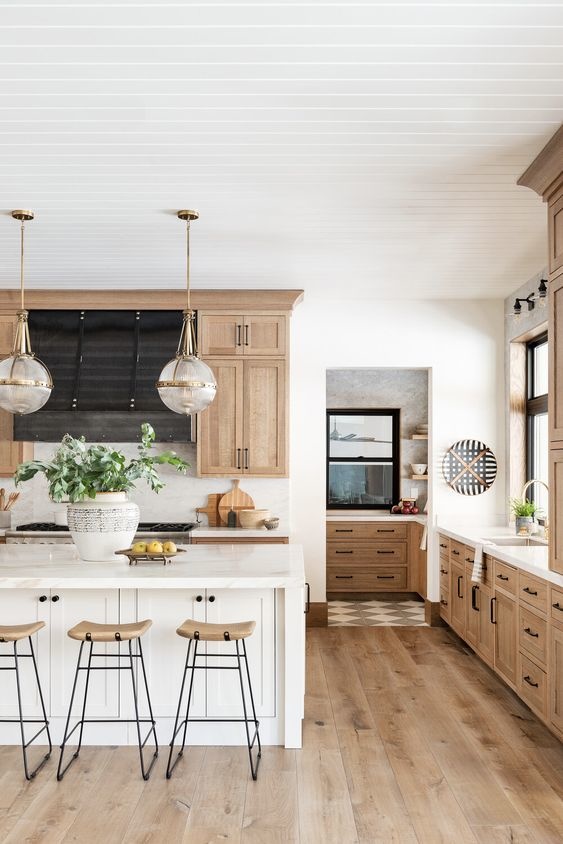 Source: Studio McGee
7. Natural Elements
While the dominating colours remain blue and green for kitchens, neutrals and wood finishes will be seeing the same popularity this year.  Playing into the organic style again, there is more demand for wood cabinetry, particularly a white oak. These wood tones are a great option to add more warmth to the kitchen and contribute to that comfortable feeling.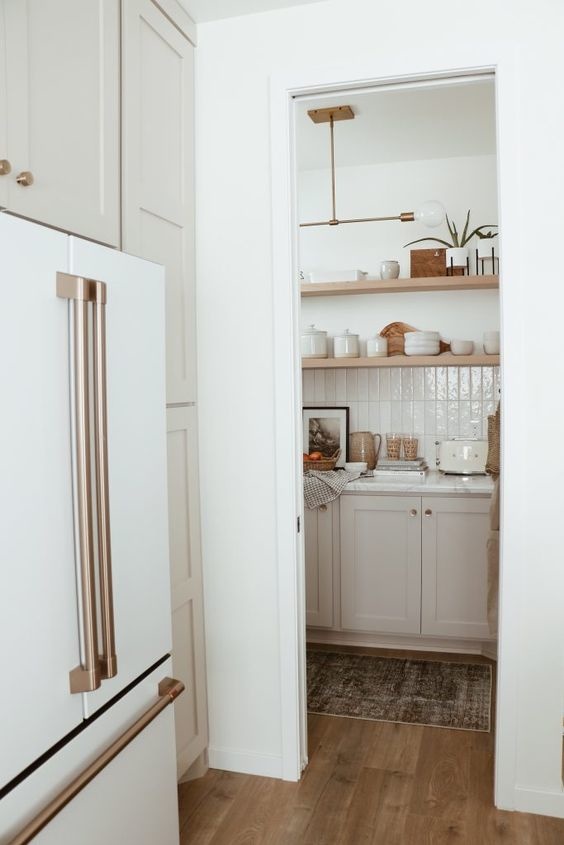 Source: Chelsey Freng
8. Functional Walk In Pantries
The way homeowners operate the kitchen has drastically changed since 2020. There was a shift from more homecooked meals, as well as fewer trips to the store. This in turn created more of a demand for storage and workspaces. Functional walk-in pantries offer the solution not only for organized storage, but for added workspace with the addition of small appliances and coffee stations.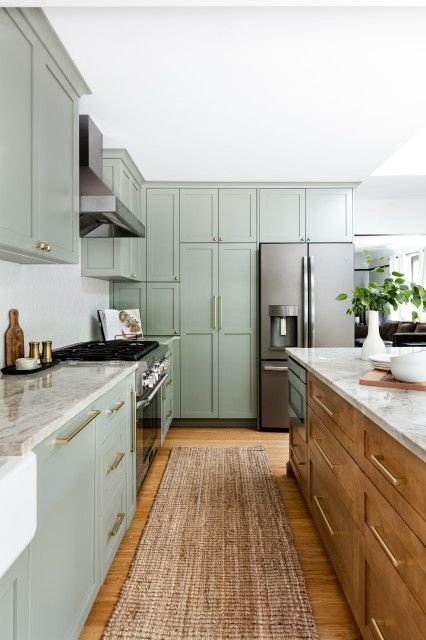 Source: Houzz
9. Shades of Green
Named the colour of 2022 by Benjamin Moore and Behr, Green is expected to dominate kitchens this year. Particularly muted shades of green, these compliment the natural tones and wood finishes also expected to remain popular this year. Adding this pop of colour helps to liven up kitchens that can tend to feel a little cold with the stone and stainless-steel appliances. Added warmth and personality to the heart of the home is the goal for the new year.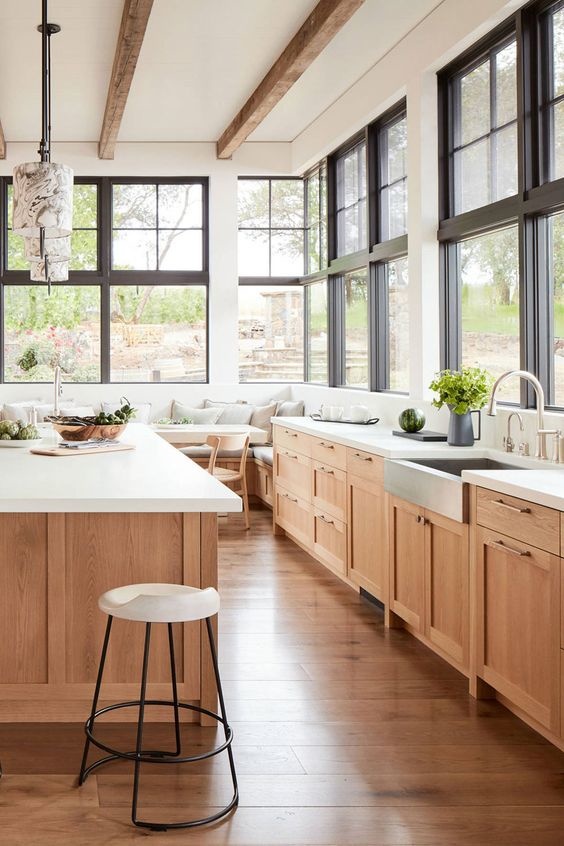 Source: Backsplash.com
10. Let The Light In
Larger windows and skylights are highly desired for 2022, in conjunction with the reconnection to nature, as well as letting the sunlight accent the natural materials of the stone, tile and wood. Add warmth and feel comfortable in your kitchen with lots of light. 
Ready to start your 2022 kitchen style? Let's explore some new hardware for the new year!