While the leaves are changing, and those rich autumnal colours are soon to be found all around, we are turning our attention to those same stunning colours found in decorative hardware. Rich in tones, and complimentary with most cabinet colours, copper finish hardware makes a statement this fall season.
Whether it is rose gold, satin copper, or antique copper, there is a multitude of finishes to suit your style and cabinet colours.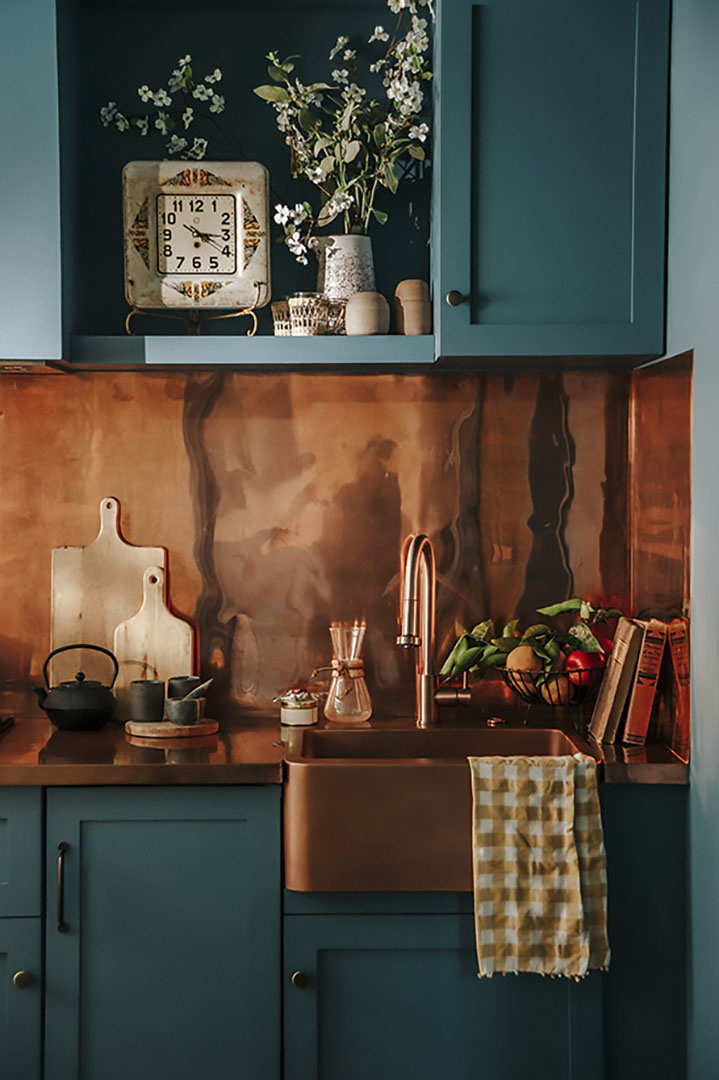 Source: SemiStories  
There can be a few considerations when determining what colour of copper hardware would work best in your space. We will review a few common questions and thoughts when choosing a finish, such as the colour of your cabinetry, how best to match your fixtures, and a few solutions for those who are undecided on which finish they prefer.  As well as ways to incorporate more copper tones throughout your home.
What Colour Should my Cabinets be for Copper Cabinet Hardware and Copper Knobs?  
Copper is a very versatile colour for decorative hardware. While it may seem like it could be difficult to match, there is a variety of different coppers that can complement a multitude of palettes. With white cabinetry reigning as the most popular, this gives you a base to work with any colour of copper. 
The rose gold City Lights Oval Knob will shine bright in contrast against the soft white paint. Whereas a deep forest green cabinet door will compliment an antique copper to create a moody, and deep-toned kitchen perfect for industrial or rustic style. 
Satin copper remains the most flexible in matching paint tones, as its softer finish twins the ever-popular satin brass that we have seen becoming increasingly popular in recent years. Whether you're leaning towards navy blue or grey cabinetry, Satin Copper is a great option for a delicate finish sure to pair well.  
Not all copper finishes are the rose gold that may come to mind when thinking of a traditional copper finish. Antique copper has an aged look that really brings through deeper brown tones, as well as a copper bronze such as the Ducale Knurled T-Knob is more so in the brown palette, and is just a hint of copper.   
Copper proves to be a flexible finish, suiting a variety of colours, and styles. Whether it be industrial or farmhouse, there is a copper finish ready to suit your exact design. Adaptable to modern or traditional homes, this finish is found in a multitude of home styles.  
There is a wide array of colours that your copper hardware can match with. Most of the trending colours that are seen today will pair well with a copper tone. Don't feel restricted by your hardware. There is always a paint or a finish that can match the vision you are after. 
Do I Have to Find Matching Copper Fixtures?  
Choosing a copper handle or knob can seem like you're signing up for a kitchen full of copper, where that doesn't necessarily need to be the answer. While matching appliances and light fixtures is always a great option, finding all your pieces in a similar finish may not be possible. There is plenty of complimentary tones and metallic finishes that can compliment and pair with copper to create a harmony in your kitchen. If you're not sold on the idea of mixed metallic finishes, a matte black is a great pair for copper, as well as easy to find in a multitude of hardware, appliances, and décor.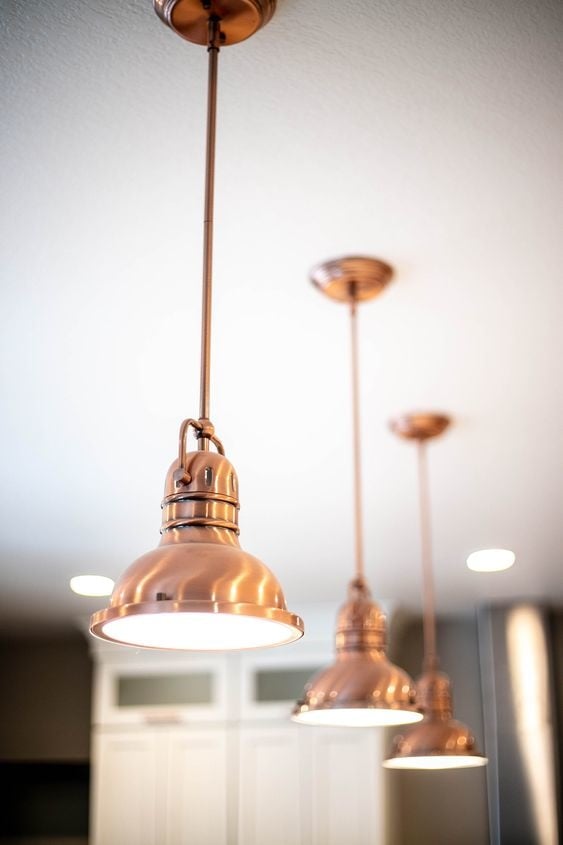 Source: This New Old House  
Mixed metallic finishes have been a popular trend as of recent, with chromes, golds, and brushed finishes all working in harmony to achieve a space that's truly what you want. And you gain all of this without having to sacrifice what you love for a matching finish. Copper is a versatile colour that compliments both golds and silvers, making it the perfect finish to incorporate in a mixed metallic home.   
If you are still wanting a bit of copper elsewhere in the home, consider adding small fixtures or hardware to other areas to create a flow of the finish throughout the space. Adding copper hooks to a mudroom or front entryway is a great way to keep the finish flowing. 
Additionally, if you have other pieces of furniture that could use some hardware updating, consider changing out the knobs or pulls. Small copper cabinet knobs on a console table or hutch can help to incorporate the colour palette easily, while also upgrading the piece of furniture in turn.  
There is no rule set in stone that your cabinet hardware needs to match the rest of your hardware. With more bold and decorative options reigning more and more popular as of recent, cabinet hardware is being seen as the jewelry to your kitchen rather than just a functional addition. Use these copper pulls as a statement piece and add a stand alone finish if that appeals to you more.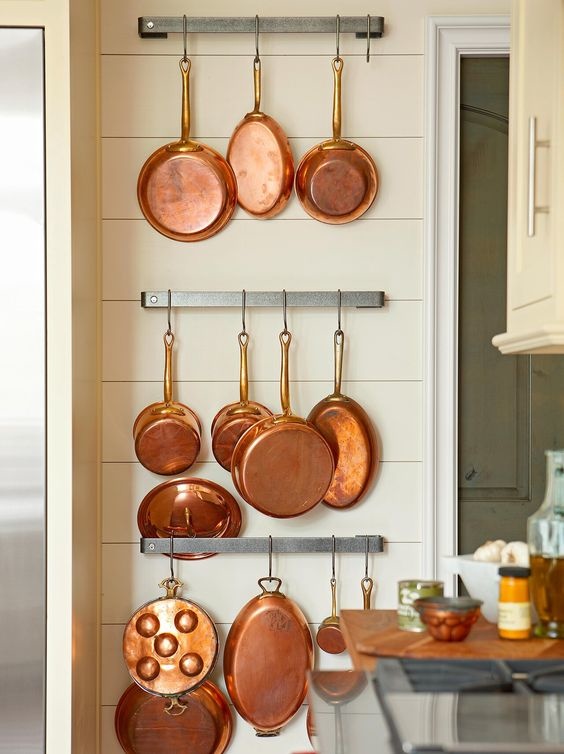 Source: Better Homes & Gardens  
A budget-friendly option for incorporating more copper into your kitchen is by displaying copper cookware and kitchen utensils. Hanging pots and pans, or having copper cooking utensils is a great option to match your handles to some of your décor. Whether it's through floating shelves, or a cookware hanger, make your kitchen utensils shine instead of hiding them away in drawers or cabinets. 
If you're looking for a more permanent copper fixture to add, consider Emtek's Satin Rose Gold door hardware. a stunning rich finish sure to pop against your doors, this handle will add a flow through of the copper tones throughout your home. If you are planning on adding more copper throughout other rooms in your home, then this door hardware is a great tool to communicate the finish throughout the spaces. 
Accent with Copper  
While copper can make quite a statement piece on your cabinetry, perhaps you're having trouble deciding between darker handles, or closer to the gold family colouring. An Antique Copper Bronze Highlight is a great finish for those that are looking for the best of both worlds. A rub-through copper look gives a great highlighted look to the handle to create depth and style. This is a much more mutes style of copper, and could be easier to incorporate if you were concerned about not having enough copper accents to match.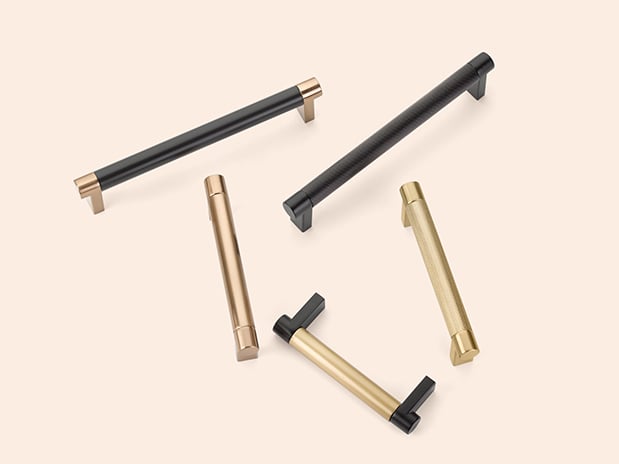 Source: Emtek  
Another great option for accenting with copper is two-toned handles, such as the Emtek Select, which features a different colour stem from the handle. Having dual-toned hardware opens up a greater opportunity to match your other fixtures if that's what you prefer. This also creates a stunning contrast against your cabinetry, and can add a variety of colours that match with either of the tones. 
Choosing a flat black or oil-rubbed bronze with copper is a stunning match, that is easily partnered with a variety of light fixtures, faucets, and other appliances. The flat black provides a universally complimentary finish that can pair well with any accessory or piece of décor.  
The versatility of mixed finish handles is second to none. Gaining increasing popularity, these duo-toned handles are expected to be a top trend for 2023. 
Will Copper Hardware Go Out of Style?
While we can never predict the future, copper seems to be here to stay for quite some time. It is a common concern we hear from customers whether they are shopping for matte black, gold or copper finishes. We find if it strays from the norm of brushed satin nickel, then there tends to be some hesitancy. It is a valid concern to have, as you are choosing your hardware for hopefully the foreseeable future. But just as we have seen gold finishes come and go, the common denominator is that they always come back. Trends are trends for a reason, and someone will always have something to say on what is popular.
However sticking to what you desire and know you love is the absolute best course of action. Forget what articles are deeming popular in the upcoming year. Choose hardware you know you like, rather than what someone else likes. With all that said, copper hardware is becoming a ever popular choice, and we do not think it's going anywhere soon. 
Ready to Transition to Copper Hardware this Autumn? 
We're here to help you find the perfect finish for your space. Transform your cabinetry and make a statement with stunning copper finishes. Begin shopping today to find the perfect hardware for your project. 
Do you have questions about sizing and placement for your new hardware? Reference our helpful Comprehensive Guide to Cabinet Hardware: Size & Placement article to find out exactly what sizes and placement works for your cabinetry. As always, we are happy to help with any questions you may have.