When you hear coastal interior design, what's the first thing that comes to mind? Is it ship anchors and seashell shaped bathroom fixtures? While the name may hint towards this type of décor, it has seen a different revival in recent years, and has taken a toned-down, modern approach with a few common elements from its predecessor.
The best way to view coastal design is less nautical, more natural. Using natural greenery, glass decorations, watery blues, bright whites, and wood furniture, a coastal space is inspired by the natural beauty found at the beach. A calming atmosphere is strived for in a coastal home, and the decorative hardware is the finishing touch to tie in all the seaside décor.
Soft coloured finishes, delicate detailing, and size all come in to play to compliment the colour palette and design style that comes with bringing the coastal feel into your home.
If you live somewhere with the cold winter months, perhaps you might be wondering how to transition the beach feel to match the seasons. Coastal design is all about ease and going with the flow, thus making it an easily transformative style with a few tweaks. It has often been compared to the modern farmhouse look, with just a bit more beachy décor. With a few quick changes, your home can be transformed to a different feel to match the season.
Kick Back with Coastal
Coastal design is all about relaxation and comfortability. Natural toned fabrics that wear well are incorporated into this style. Being able to relax, and not worry about staining or getting sandy toes on the furniture, the coastal way focuses on feeling like you're on vacation.
Comfortable linen and cotton furniture is the go-to. Soft textures and slipcovers are prominently found in coastal homes and are ideal for families as they can be washed quickly. Add extra comfort with soft throw blankets, and fabric ottomans to soften the space further. For kitchen seating, rattan or wicker furniture is an excellent choice to incorporate some of those natural tones into the space as well.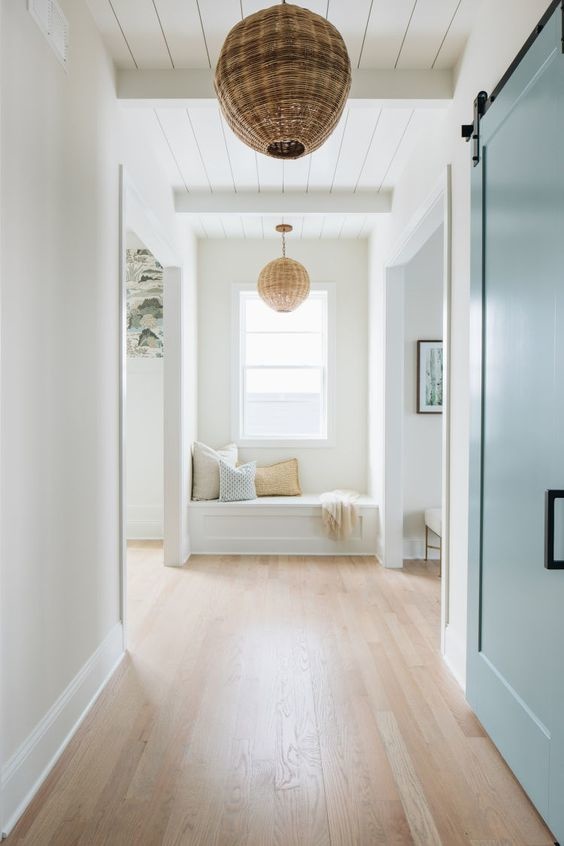 Source: Sand & Sisal
Going Au Naturale
To keep the relaxation vibes flowing, natural elements are essential to calm the space and not overwhelm the eye. Wicker or rattan dining furniture are a great way to incorporate the natural tones into your space. Area rugs are woven using natural materials such as jute or straw, and curtains are breezy and white.
Organic lighting is essential to brighten up the space. Large windows and glass doors allow the room to feel connected to outdoors blurring the boundary between the beach and indoors.
Artwork is another great tool to enhance the beachy feel. Pictures featuring rich blues, reminiscent of the ocean allow you to incorporate that touch of colour, while emphasizing the shoreside feel.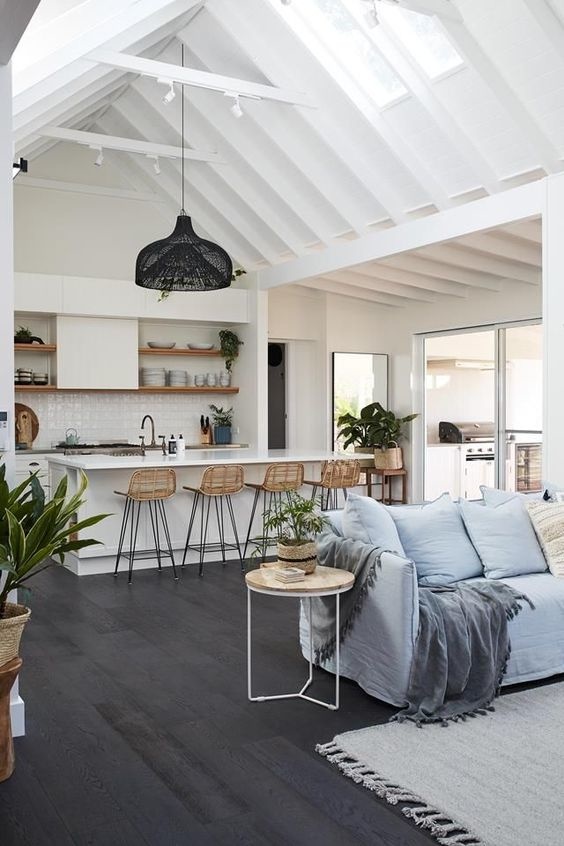 Source: Homes to Love
Décor For the Seashore
As coastal design is all about going with the flow, it can be easy to go a little overboard (no pun intended) with the beach themed décor. The important thing to remember is we're moving away from the nautical style that reigned throughout the early aughts.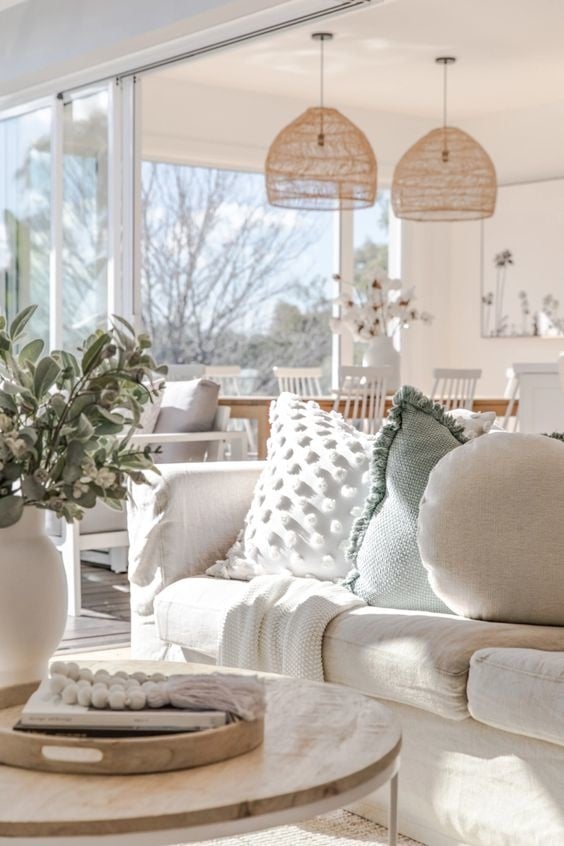 Source: The Interiors Addict
Think less seahorses and ship anchors, and more purposeful pieces that evoke feelings of the beach without being so direct. We're bringing in more of the feeling of being seaside, through the use of similar colour palettes, and textures that evoke that beachside vibe. Décor is used more sparingly with this design, such as natural greenery in a vase, local artisan paintings and ceramics, wood bead garlands, and woven baskets.
Whiten It Up!
A bright white room helps to achieve an airiness and opens the rooms. Crisp white walls, and neutral furniture are a must, however not all colours must be removed. Accent colours of greens and blues, like sea glass, greys, and beiges all come to play when we go coastal.
Think of all the colours you find at the beach and bring them into your home. Softer, more muted earthy tones are to be desired, to help keep the lightness I the room.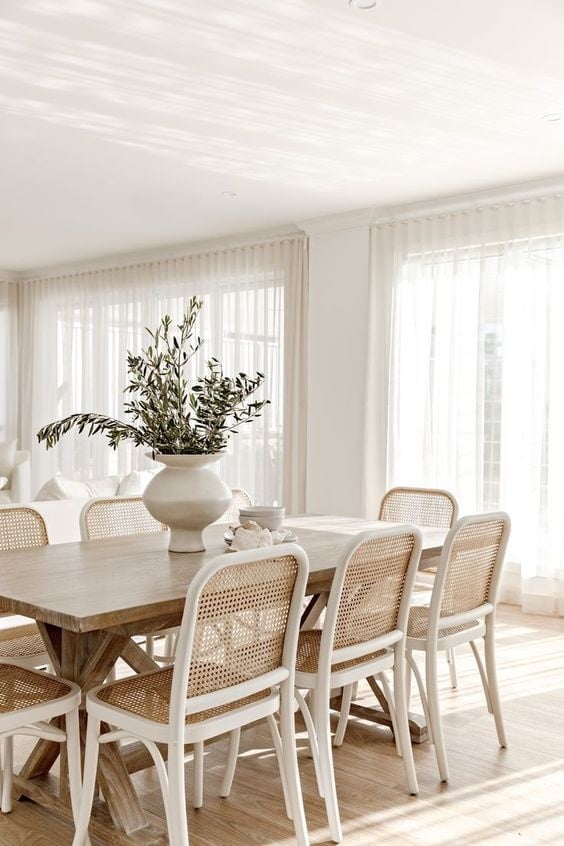 Source: Oak & Orange
An open floor plan is helpful as well to create a breezy cohesive atmosphere. Removing walls and ensuring that the same paint colour flows through the walls to blend the seams and bring an airy vibe to the space can help to bring the beach inside. To avoid the room feeling flat, add various textures through throw pillows, rugs, and other textiles to bring in depth.
Emtek is a Natural Fit
Clean lines, rich finishes, and customization are Emtek's specialty and makes them an excellent choice to match your coastal home. Emtek offers more than just cabinet hardware, they are known for their interior and exterior door hardware, hinges, pocket door pulls, and bathroom accessories. With such a wide variety of hardware you can ensure a matching finish and style through each of your rooms.
When deciding on Emtek cabinet hardware to match your coastal home, there are a few things to consider. Finish, detailing and size all contribute to the look and feel of your home so a great place to start is determining what style fits best with your coastal look. Coastal interior design is not entirely modern, however it is not completely traditional either, therefore there is a wide range of Emtek cabinet hardware styles that can be suitable to match this style.
"Emtek attends worldwide design and hardware shows to stay on top of current trends in hardware, lighting, plumbing and accessories.  This year Emtek is incorporating the natural tones of satin copper, matte white, satin rose gold and pewter into some modern hardware items, as consumers have been using these finishes in their coastal home designs.  As these tones are being introduced into the Emtek Select "Mix and Match" series, this allows designers and homeowners to achieve a higher level of versatility and personal hardware design than ever before."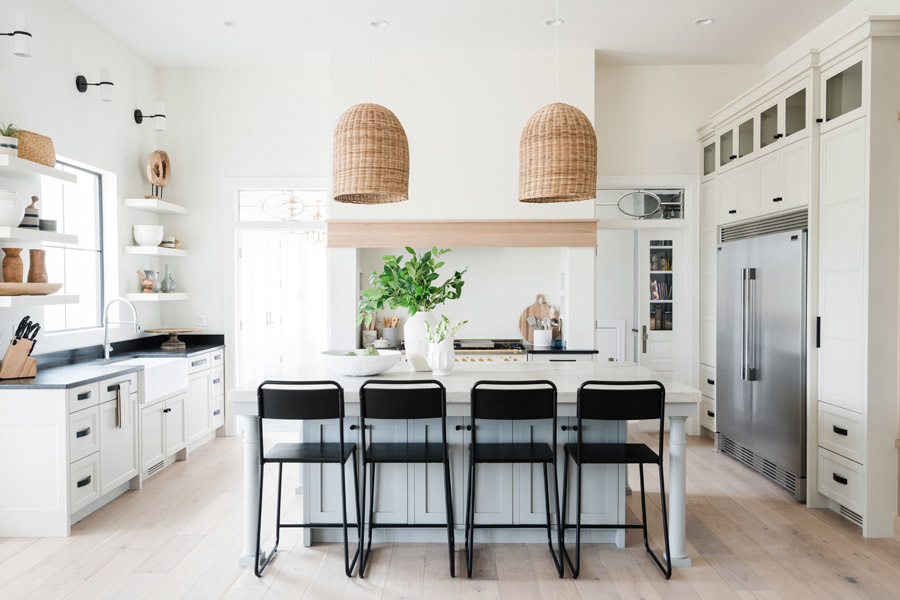 Source: Emtek
Whether you're looking for something sleek and modern, such as the Emtek Trinity pull or something to bridge the gap between traditional and modern, like the Emtek Alexander pull. Not sure what cabinet hardware style suits you best? We're here to help you with any questions you may have to ensure you get the perfect hardware for your space. In the meantime, let's cover a few criteria to keep in mind when shopping for your coastal cabinet hardware.
Hardware Finish
Keeping with the theme of light and airy, it's important to keep that in mind when determining your hardware finish. Opting for a lighter finish will help to continue the breezy feeling of beachy colours. Whereas a matte black may break up the space, and provide too much contrast, a satin nickel will seamlessly blend with the bright cabinetry to not distract away.
Any of the silver finishes will be an excellent choice in a coastal home, whether it be polished or satin, they fit easily into the natural look, and will compliment the blue and white palette. If you are wanting a bit of colour with your hardware, a refined gold that adds just a small pop of colour without overwhelming your cabinetry is an easy choice with Emtek satin brass pulls.
Hardware Design
The next item to consider when choosing hardware is detailing. As we have emphasized simplicity in the coastal design, similar thought should be implemented with your hardware. Choosing minimally detailed hardware does not mean you have to sacrifice style. Emtek's wide range of products means there are many options that will fit your home's style.
Emtek's Jasper collection is an excellent option for a coastal home. A play on the traditional bar pull, the Emtek Jasper pull brings in refined detailing that is reminiscent of nautical elements found on ports and ships. If you are looking for a little more design, while still staying on theme, Emtek's Tribeca collection exemplifies how to tie in softer colours, while still getting a pop of design. The Emtek Tribeca Pull recalls the soft waves of a beach as it features flowing lines throughout.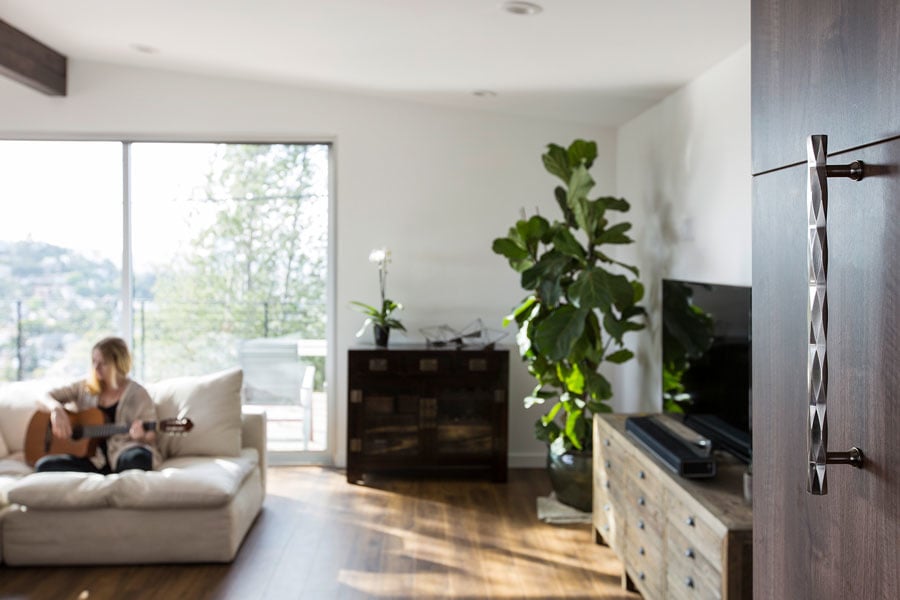 Source: Emtek
Hardware Size
The size of your cabinet hardware is not detrimental to the style of your home, however carefully considering which size will be most complimentary can just elevate and tie in the final touches in your home. Larger pulls that dominate the cabinetry are more commonly found in contemporary homes, whereas smaller pulls are more native to the traditional style.
So where does the coastal design fit in with hardware size? Coastal interior design is a more modernized version of the nautical designs that were so prominent in the early 2000's, however it is not entirely contemporary, so with that in mind we look for a hardware size that is complimentary to both modern and transitional styles.
A mid-size handle, such as the Emtek Freestone in a 6-inch center to center will compliment your cabinets without overpowering in size. When considering size of hardware, another consideration is the use of knobs for smaller doors and drawers. Emtek has a wide variety of knobs that match their pulls, which makes it an easy transition for that smaller cabinetry. The Emtek Freestone Cabinet Knob comes in a t-knob or finger pull, providing plenty of options suitable to your unique kitchen layout.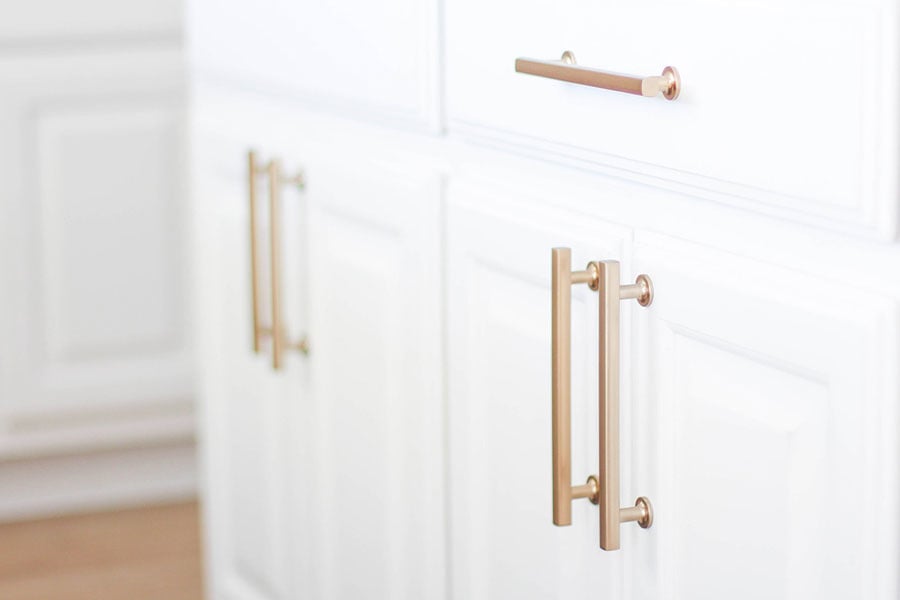 Source: Emtek
Ready to Go Coastal?
Matching your cabinet hardware to your interior design is the icing on the cake. Ensuring that your design flows through every aspect of the room creates the seamless feel that coastal design craves. While there are quite a few elements that can be integrated into the coastal style, it does not have to be all done at once. Some light paint, and beachy art will begin to incorporate the seaside into your home without requiring a major overhaul.
Whether you are ready to take the plunge into the beachside décor, or if you are just gathering some inspiration for now, we are here to help with all your decorative and functional hardware to create your perfect space.
Start Planning Your Coastal Design Project
Buy Emtek hardware online today at Handles & More.