Posted on
By Handles & More Team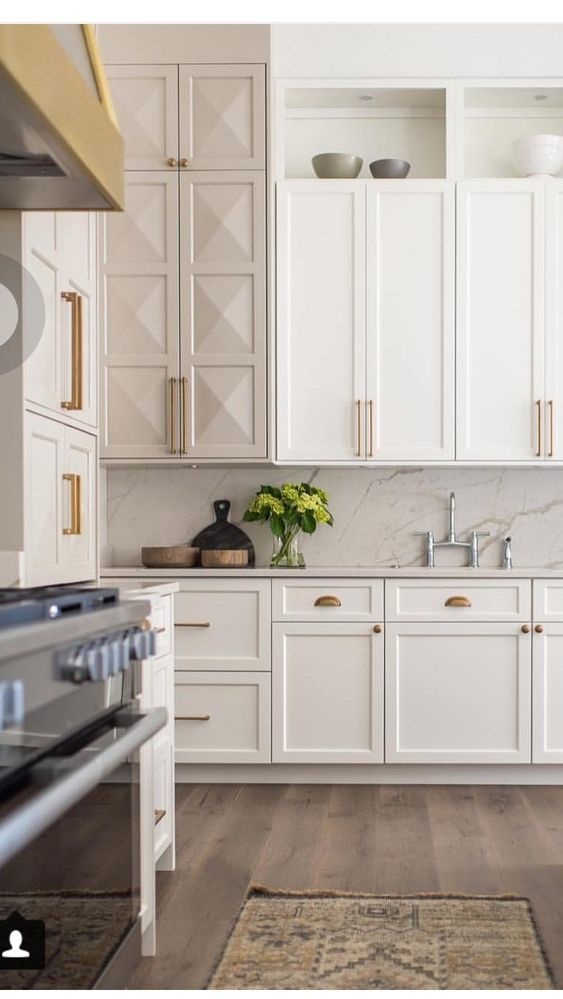 When beginning your search for cabinet hardware, you may find yourself a little overwhelmed with the amount of selection. From sizing to function, and not to mention style, there are a few categories to navigate when selecting your cabinet pulls and knobs.
There are quite a few terms used for the various styles of knobs and handles. Cup pulls, edge pulls, backplate, knurled, there seems to be a whole dictionary that comes with the territory. Never fear, we are here to navigate you through the diversity of cabinet hardware. To begin, let's review some common hardware questions that we encounter often.  
What is Trending in Cabinet Pulls?
Modern and sleek pulls remain the top choice for cabinet hardware. Bar pulls, and simple square handles are the top pick, for their adaptability and ease of matching, these are a great choice.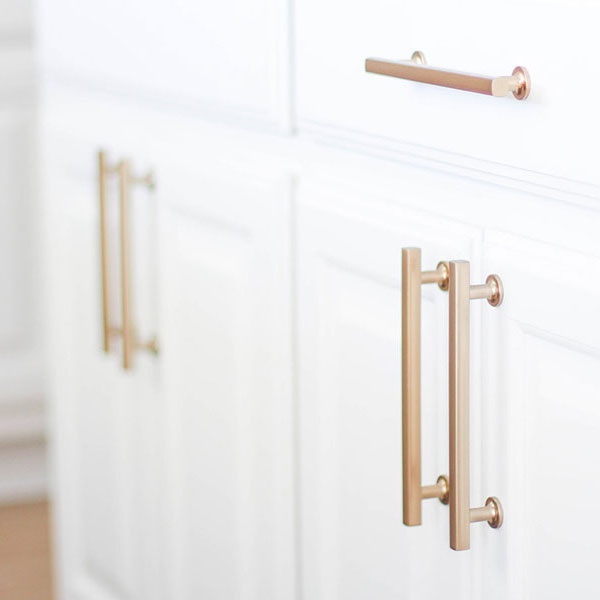 Source: Emtek 
What is The Most Popular Finish for Kitchen Cabinet Hardware?
Brushed nickel has remained the most popular finish for many years. For its durability, and ease of matching, as well as its ability to hide fingerprints. This finish reigns as the top pick for kitchens and bathrooms alike. 
What kind of cabinet pulls are in style 2022?
Gold, matte black, and bar pull styles are the most popular choices for 2022. Unique pulls are becoming more popular. Whether it's mixed finishes or bold designs, people are choosing more statement hardware.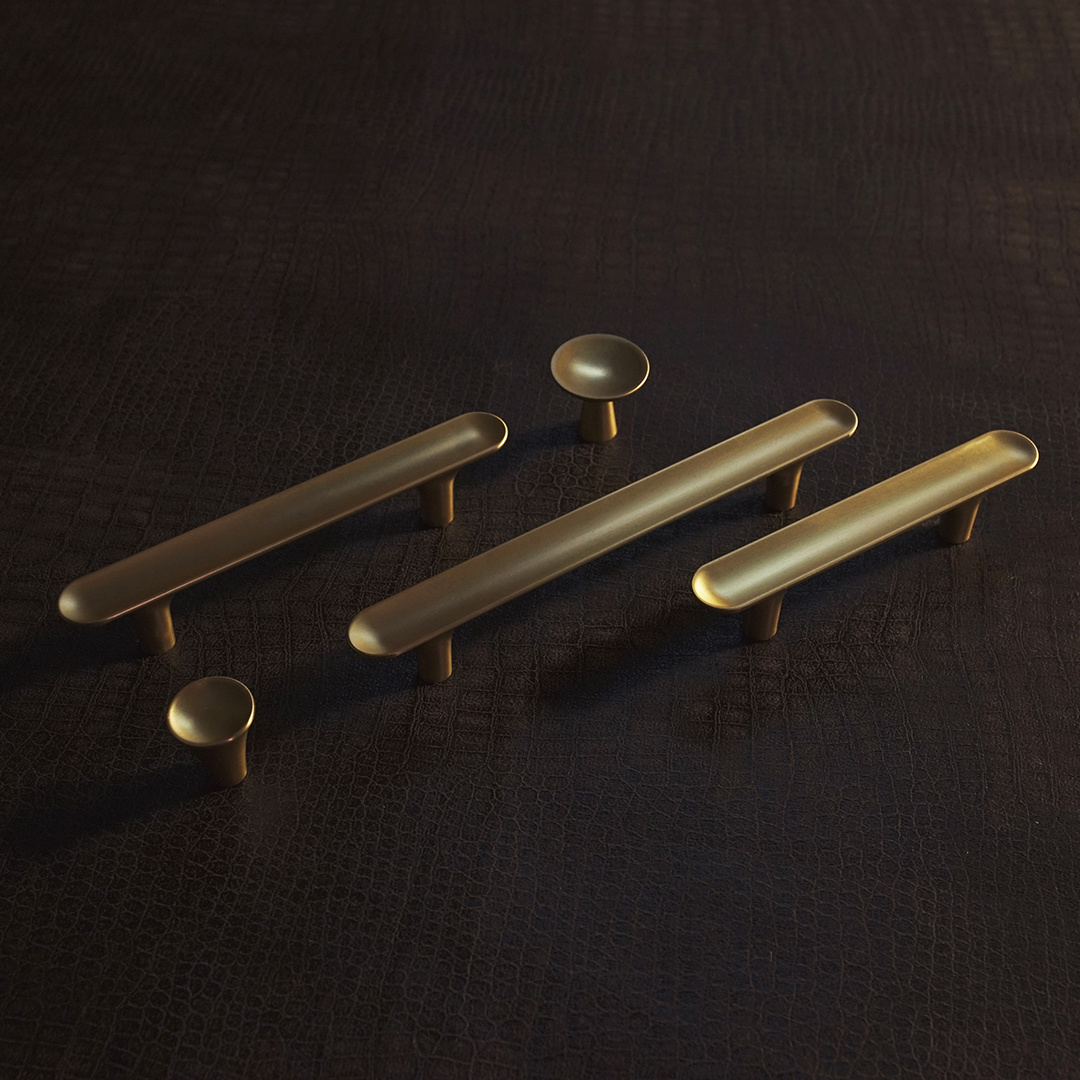 Source: Hickory Hardware
What is the most popular cabinet pull size?
The most common sizes of cabinet pulls are 96 mm and 128 mm center-to-center. These are a moderate size that is complimentary to most sizes of cabinet doors and drawers.  
Edge Pulls
To get a little more specific about the style of cabinet hardware, let's discuss some of the common styles. Starting with Edge Pulls. Now if this is a term you are not familiar with, have no fear. We will begin by discussing what the use of this pull is.  
What is it used for? 
An edge pull is installed on the top of your drawer and hangs over the edge to create a minimalistic style. Its main purpose is to create a lip to grab onto when the door is flush with the cabinets.  
How are Edge pulls installed? 
Edge pulls have a unique installation. Drilled onto the back of the door or drawer, the majority of the handle is actually hidden from sight. These are not to be confused with the door edge pull commonly used for pocket doors, though the two share a name.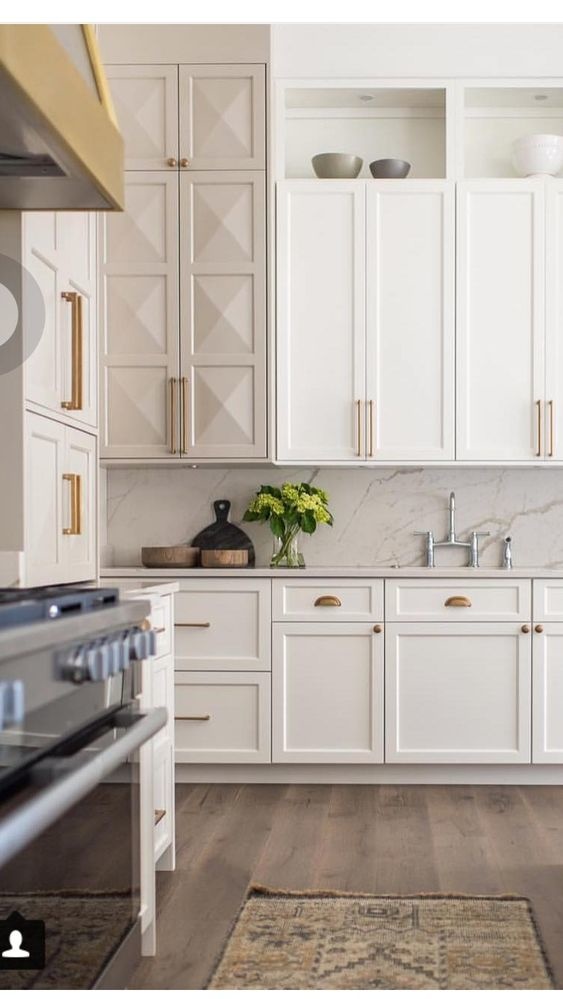 Source: Houzz
What is a Cabinet Tab Pull?
A tab pull is another name for a cabinet edge pull. It is a modern type of cabinetry hardware that provides a scarcely visible on the edge of your cabinet drawers — a sleek design for a contemporary style. 
Finger Pulls
What is a Finger Pull?
A finger pull is designed for a single finger to open your cabinets or drawers. They are front-mounted and tend to be modern styling for a minimalistic look. These have become especially popular with a micro shaker-style cabinet door.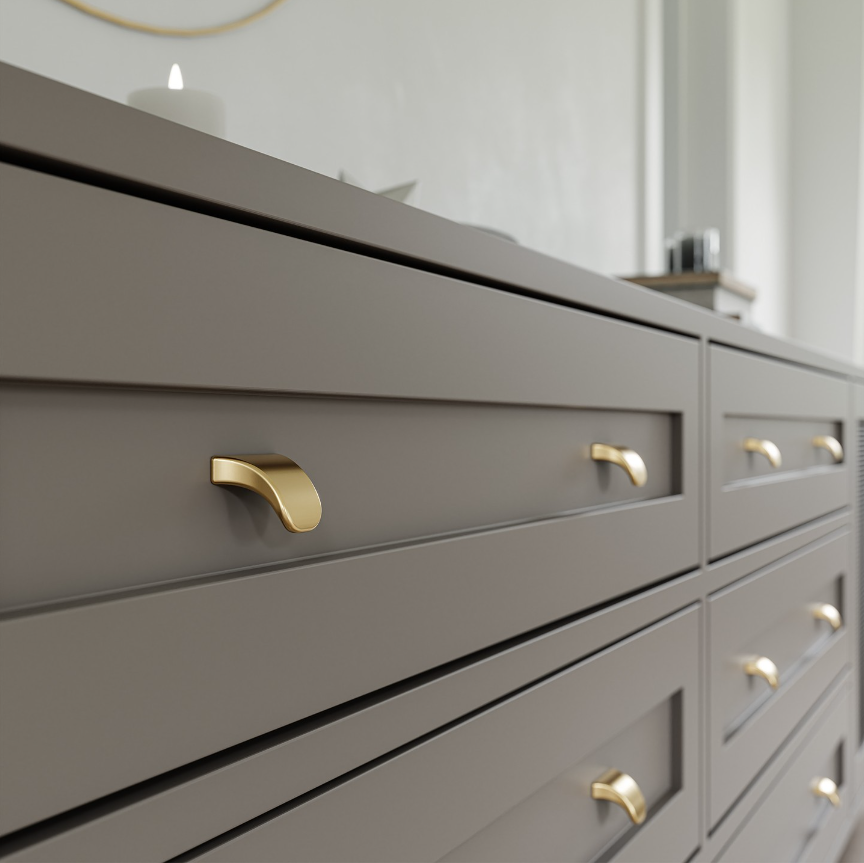 Source: Marathon Hardware
Placement of Cabinet Hardware
There are a few common questions in regard to placement and sizing choices for your cabinet hardware. We'll be covering some of the most common questions in this blog, but for an in-depth review of sizing and placement, please check out our Comprehensive Guide. 
How Far from Edge Should Cabinet Pulls Be?
As a general rule of thumb, placement for cabinet pulls is around 2 ½" to 3" from the edge of the upper corner of the cabinet for base cabinets, and along the lower corner for upper cabinets. This is applicable to knobs as well.  
Is it OK to mix and match cabinet hardware?
Yes! Whether it's mixing colours, or cabinet pulls and knobs, mixing cabinet hardware is an ever-popular choice. The most popular is people choosing to use cabinet handles on their lower cabinets, and knobs on their upper cabinets.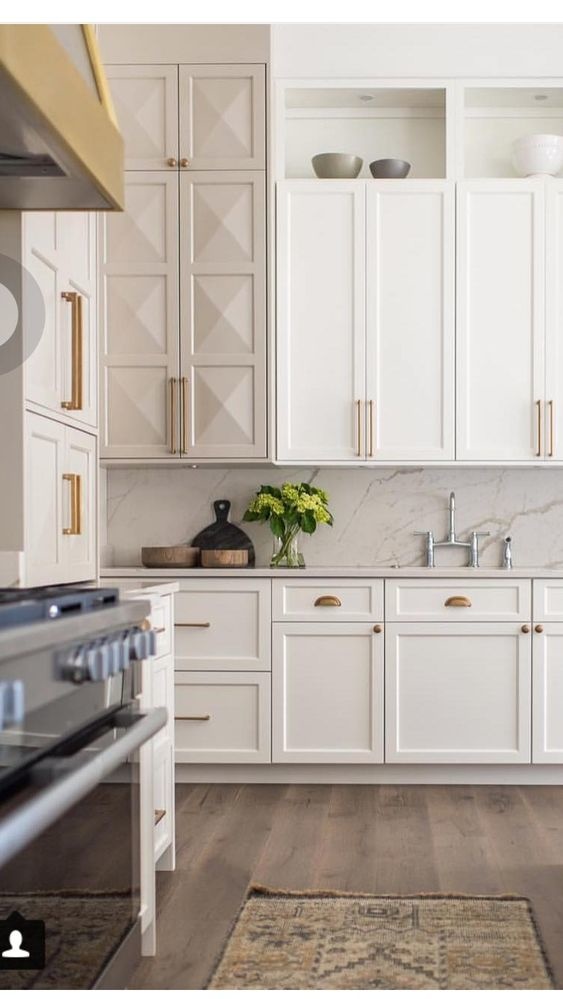 Source: Utah Style & Design
What is the rule of thumb for cabinet hardware?
The common guideline for cabinet hardware sizing is called the one-third rule. Hardware typically should be 1/3 the height of your cabinet door or for cabinet drawers, 1/3 the width. 
What is Knurled Cabinet Hardware?
A knurled cabinet pull has a raised texture of etched lines. This creates a diamond pattern on the handle. A knurled knob also has these same features. 
Should all cabinet hardware be the same size?
Cabinet handles do not have to be all the same size. It is all dependent on what you prefer, and what works best for your size of doors and drawers.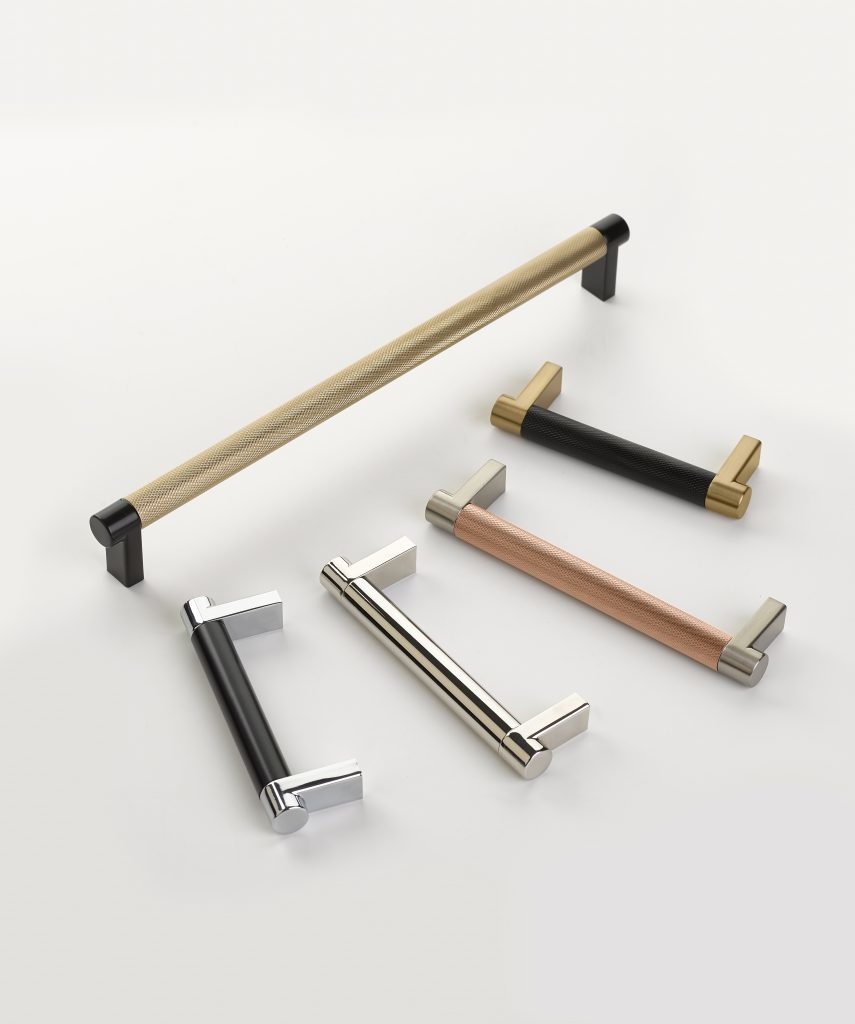 Source: Emtek
We're Here to Help
There can be quite a lot to know regarding the many shapes and faces of cabinet hardware, but it doesn't have to be overwhelming. With a few simple questions, it is easy to break down exactly what type of cabinet hardware is best for your space.  
If you have questions regarding the shapes and uses of cabinet hardware, we're here to help you. Ready to begin exploring different cabinet hardware? Shop our wide variety of pulls and knobs.