Whether you are tackling a renovation project, or building a new home, there are many factors to consider when it comes to hardware selection. Soft close hinges are among the hardware selections that are worth considering. Easily upgrade your space with these hinges, and instantly modernize your design.
The mechanisms in soft close hinges slowly and silently close your cabinet doors and prevent slamming. Relatively new to the cabinetry scene, these hinges have quickly become on of the most popular kitchen accessories.
There are many benefits that these hinges bring to your cabinetry, so let's explore the top 5 benefits to using soft close hinges.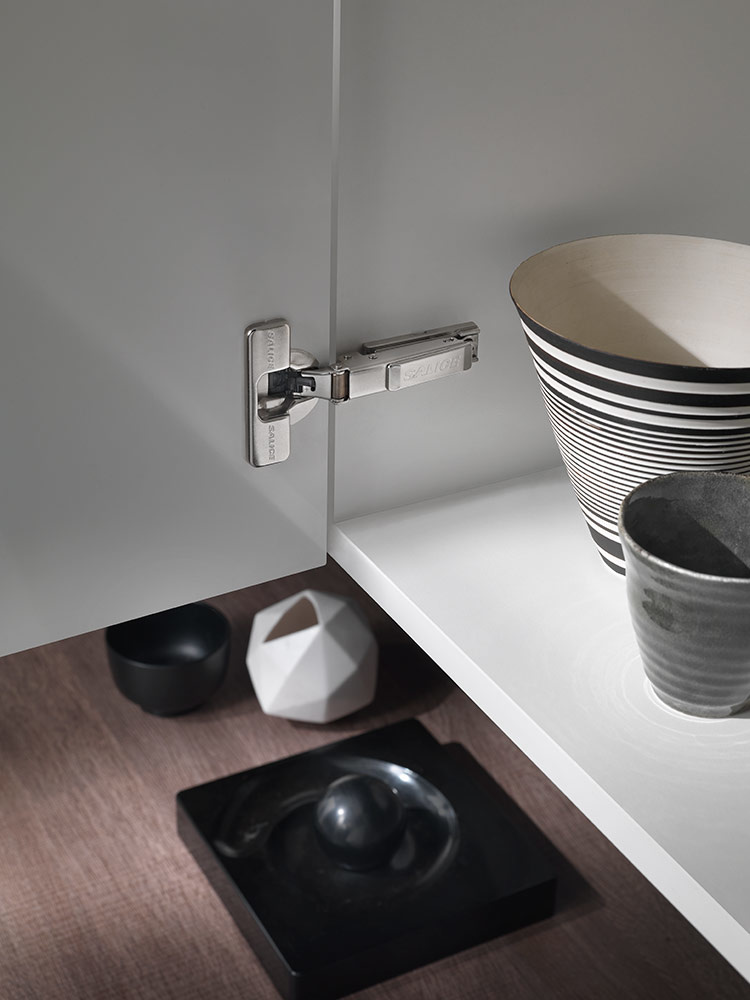 Source: Salice
Safety First!
If you have children then one reason to choose soft close hinges is peace of mind.  Fingers will not get easily slammed in cabinet doors that have soft-close mechanisms because they gently close doors which allows for time to safely remove small fingers from injury.
As for the older children, there is no more slamming cabinet doors when they're in a rush. Keep the calm feeling in your kitchen with the silent and gentle benefits of soft-close hinges.
Elevate Your Cabinetry
While soft close door hinges aren't visible from the front of the cabinet, they still do an excellent job of elevating and upgrading your design of your kitchen. They silently and smoothly close your doors to offer a sleek and modern feel, while also protecting your cabinetry by preventing slamming and minimizing the strain placed on your cabinets.
If you previously had face frame hinges on your cabinetry, then transitioning to a soft-close hinge can quickly and easily modernize your kitchen, while also making it more user friendly. The added convenience is worth mentioning as well.
No more cabinet doors left half open. The soft-close mechanism will gently pull your cabinet doors closed, so you no longer need to double check that the door has closed when walking away.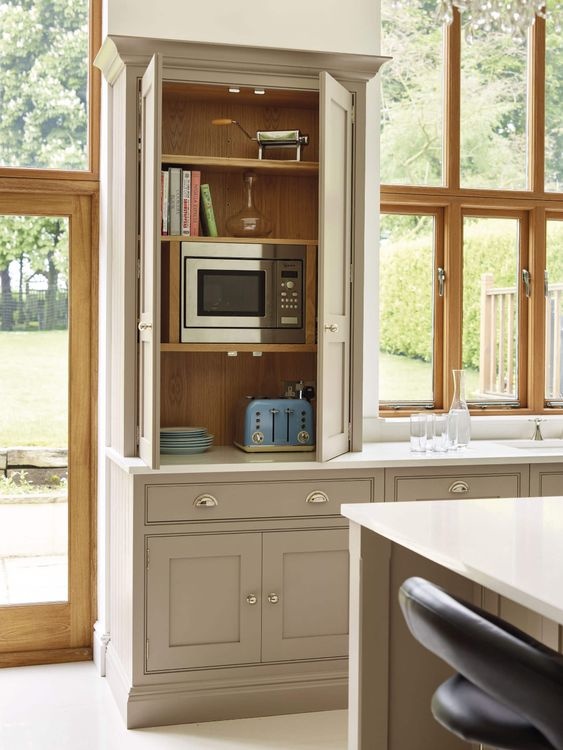 Source: Tom Howley
Extend the Life of Your Cabinets
As mentioned prior, these hinges help reduce the daily wear and tear on your cabinets and frames. Gently closing doors prevents scuffs and scratches that can occur with free swinging hinges.
Not only do soft close hinges protect your cabinetry, but they protect the contents inside as well. There is no slamming on your plates and glassware with gently closing hardware.
These hinges are also designed to reduce the amount of friction that occurs with normal hinges, in turn extending the life of your hinges as well.
Added Value
Whether you're renovating to sell or plan to live in your home for many years to come, adding soft close hinges still brings a great deal of value to your home.
A kitchen is one of the most considered spaces in a home by potential buyers, and by adding upgraded hardware this can make your kitchen stand out in the market.
Quick and Cost-Effective Remodeling
If you're looking for a quick way to renovate your kitchen, this is an easy and budget friendly way to upgrade your space. While it may not be a visual change to your kitchen, this upgrade is well worth it.
The reduction of wear and tear over time will save you from having to replace them as well as replace any damaged cabinetry from the free swing hinges. These two factors far outweigh the fact this hardware may be more expensive than conventional hinges.
What Soft-Close Hinge Do I Pick?
There are quite a few options for soft close hinges, it can be a little overwhelming to know what ones are the right fit for your kitchen. From different brands to different functions, let's review a few of the key factors to consider when choosing the right hinge for you.

Source: Blum
Brand of Hinge
We carry three of the major hinge suppliers at Handles & More and each have their own benefits that are important to consider when deciding which hinge to buy:
Blum Soft Close Hinges - One of Europe's best hinge lines, the CLIP top BLUMOTION combines innovative technology, award-winning design and top-quality motion within the smallest space. BLUMOTION is the top-of-the-line soft close hinge, trusted by kitchen professionals for many years.
Salice Soft Close Hinges- Silentia+ allows a perfect and constant closing of the door in any condition, use and application. The innovative soft-close technology guarantees excellent performances to the complete range of hinges. Silentia+ is also equipped with the innovative switch to delay the decelerating action. The activation of this switch allows, even to special doors, to obtain the ideal decelerating strength.
DTC Soft Close Hinges - The smooth, soft-close motion of the Pivot-Pro series is the result of a strong damper mechanism that is built into the hinge arm. The new C80 hinge family offers an increase in performance over the best-selling C96 series of Soft-Closing hinges. While retaining all the best features, this hinge has the ability to catch and decelerate the closing of the cabinet door from a greater angle and provides the user with a superior relaxed opening movement.
Function of Hinge
Soft closing hinges are not only designed for a standard cabinet door. There are a few angles to allow most of your cabinetry to be soft close. For example, the Blum CLIP top BLUMOTION 155° is designed for cabinets with inner pull-outs or pull-out surrounds, so your pantry can also be soft close.
If you're not sure what angle is suitable for your cabinetry, we can help determine the best hinge for each of your cabinets.
Soft-Close Everything!
When upgrading to soft-close hinges, you may begin to want to upgrade the rest of your cabinetry to soft close mechanisms. Whether it's your drawers, or a waste pull out, we have the soft-close hardware to make your kitchen operate smoothly and silently.
These are just some of many benefits that come with upgrading to soft-close hinges. They are a great addition into any kitchen for added luxury and value. Explore our variety of soft-close hinges and begin upgrading your cabinetry today!