Seeing an uptick in popularity in recent years, appliance pulls are dominating the custom kitchen designs. An added option to add a touch of style to your everyday appliances, these pulls are heavy duty, trendy, and here to stay.

Source: Lemon Grove Lane
What Are Appliance Pulls? 
Appliance pulls are heavy duty handles designed to be installed on wood paneled appliances and offer a custom option to seamlessly match your cabinetry. Gaining popularity in recent years, these pulls are an extra way to add some customization to your kitchen design. 
Ranging in size from 12" to 30", these pulls are crafted to make a statement. Built to withstand the weight of appliance doors, these pulls are sturdy, however this does not mean they sacrifice style. Available in a variety of styles, textures, and colours to match any kitchen design, these pulls can blend in with your cabinet pulls, or stand out to make your custom appliances pop.    
Can I Use A Longer Cabinet Pull?  
While a longer cabinet pull may fit on your appliance, an appliance pull is designed to withstand the weight of the doors and the use over time. The type of screw used in an appliance pull is larger as well, to help bear the force of opening the appliance, in addition to the panels often being slightly thicker than a standard cabinet door. That's not to say that a longer cabinet pull couldn't be used, however.  
If an appliance pull isn't quite in the budget, there are 12" – 14" pulls that we have seen used on appliances, like the Denman Pull, or even longer standard cabinet pulls, such as the Amwell 30" pull that could be substituted to save some money. Something to consider if choosing this route, while the handle can hold up from the weight of the appliance, the difference comes down to the thicker screws that appliance pulls are designed for.  
With a regular cabinet pull, you will be installing with standard screws, and that will be the aspect that may not experience some wear and tear due to the weight of the appliance. However, in regard to the cost difference, if you had to replace the standard pull, there would still be some cost savings when replacing it one time.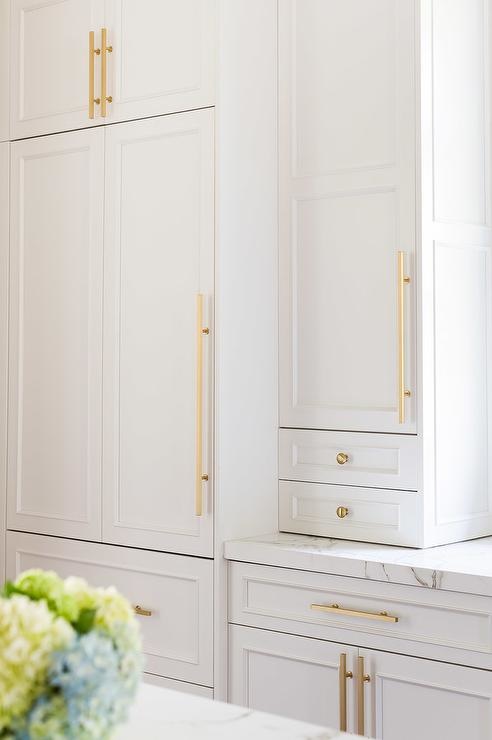 Source: Decor Pad
While this is a budget friendly option, we do still recommend using an appliance pull for your panel ready appliances. This ensures that the correct hardware is being installed and won't break while you're pulling out the turkey on Thanksgiving.   
How Long Should My Appliance Pulls Be? 
You may be asking what size appliance pull for refrigerator, or dishwasher? Your pulls do not need to be the same size across all your appliances as well.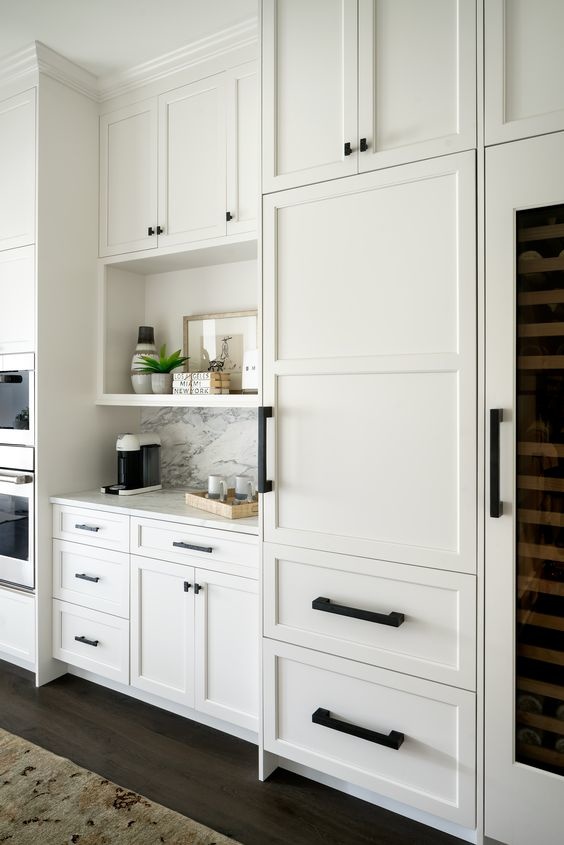 Source: Kitchens by Design
Consider the individual size of each appliance you intend to change, and what length would be complimentary to its size. As we have discussed in our Comprehensive Guide to Cabinet Hardware: Size & Placement, the same rules are applied with appliances.  
Typically, you will want to work with the rule of thirds and choose a pull that is roughly 1/3 the length of the panel. Many appliance pulls come in a variety of sizes of the same style, so that you can choose each length to suit the individual appliance.   
Should My Appliance Pulls Match My Cabinet Hardware?  
There are a few options when it comes to selecting appliance pull hardware, and it mainly comes down to what your style is for the rest of the kitchen.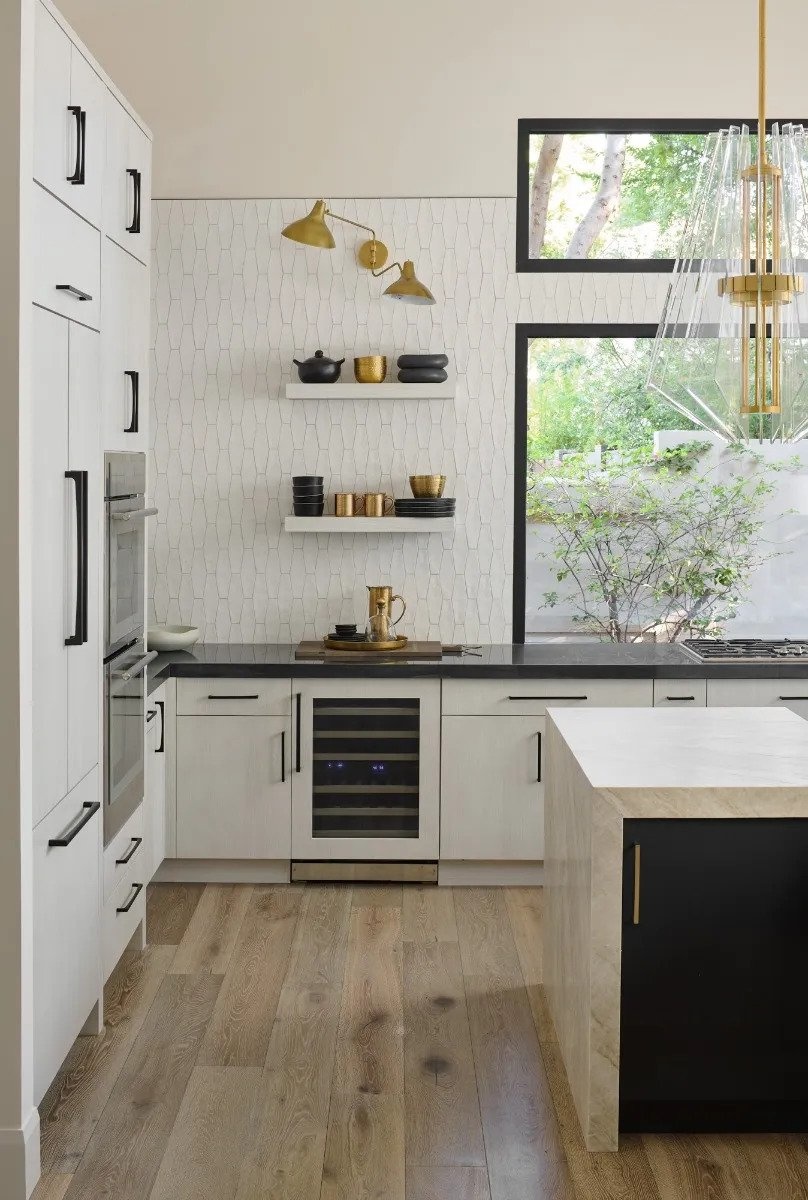 Source: Top Knobs
Perhaps you have a traditional style kitchen, it which you may want to directly match your appliance pulls with your cabinet hardware, or if you are wanting a more contemporary feel, you could mix the finishes, such as mixed metallics with brushed satin nickel cabinet pulls and gold appliance pulls, or change up the textures, and designs. There are lots of different ways that these pulls can be used to compliment different kitchen styles.  
Keep in mind that not every one of the appliances needs to have matching appliance pulls either. If your fridge is not a panel ready appliance, but your other appliances are, we can help find a close match to your fridge's existing pulls to compliment them as well. Top Knobs and Emtek both have fantastic options for appliance pulls that match their collections.   
What Styles are Currently Trending for Appliance Pulls? 
Emtek Trinity Appliance Pull – This modern option is sleek and refined. The minimal detailing makes it complimentary to a wide variety of styles. Emtek appliance pulls come in 6 rich finishes to perfectly match your Emtek cabinet pulls.   
Emtek Warwick Appliance Pull – Available in 12" and 18", the Warwick is a trendy spin on the modern rectangular pull. With sleek, smooth edges, the Warwick is a modern classic.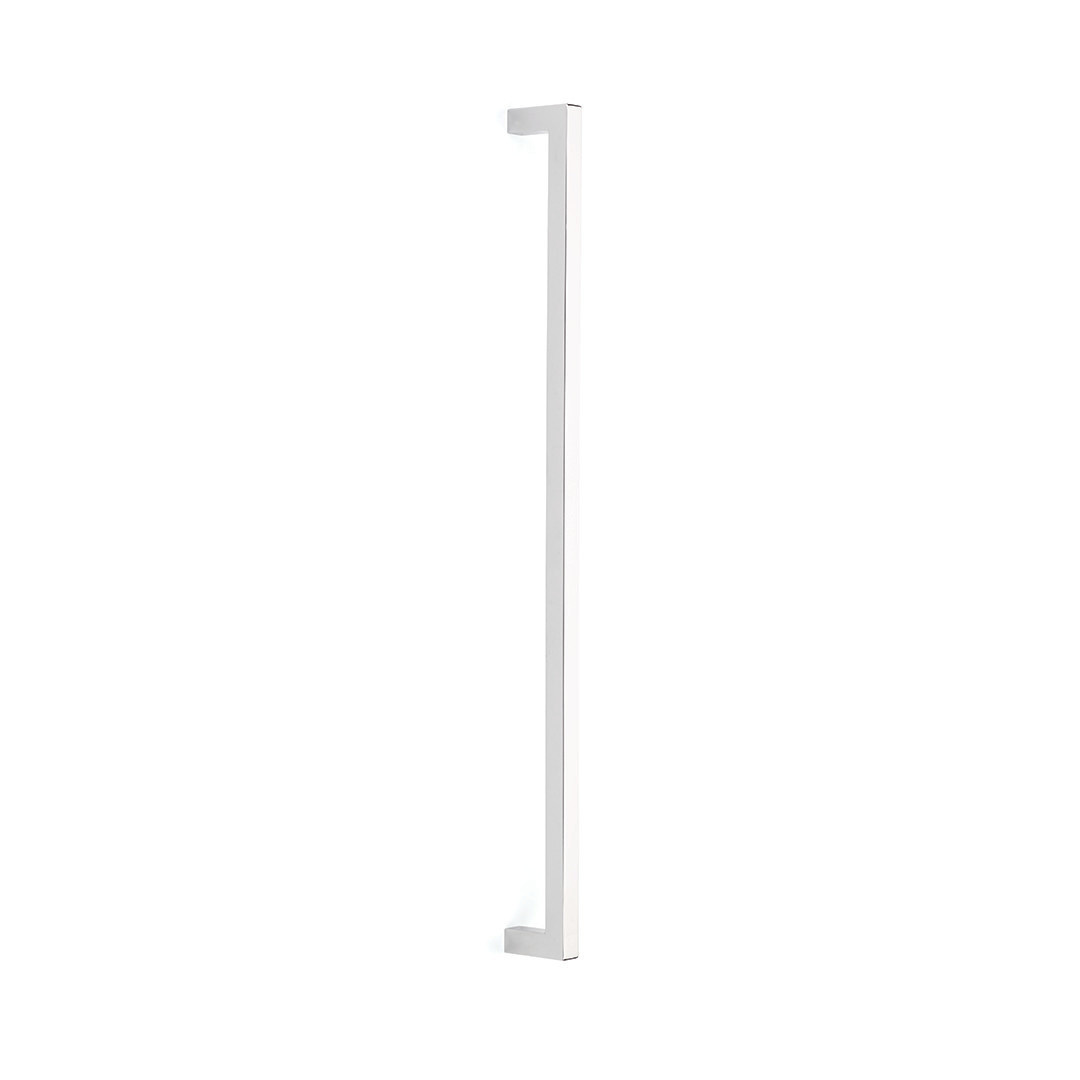 Top Knobs Square Appliance Pull – The Square appliance pull is the perfect match to Top Knobs Square Bar collection. Clean lines, and crisp corners make this a stunning feature in your modern kitchen.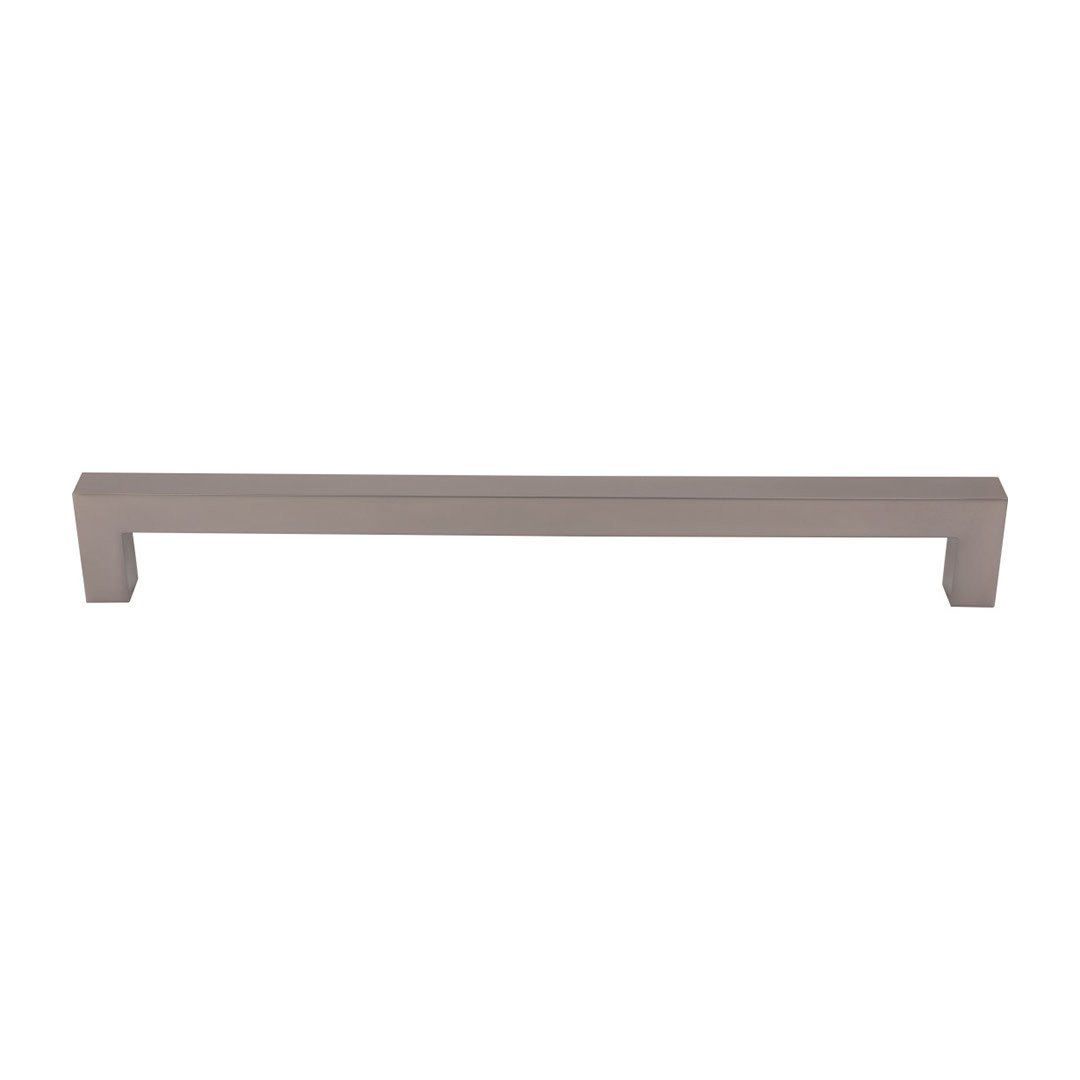 Schaub Pub House Appliance Pull – Ranging in three sizes, the Pub House is a modern take on the classic bar pull. Available in knurled or smooth, these Schaub appliance pulls are here to make a statement.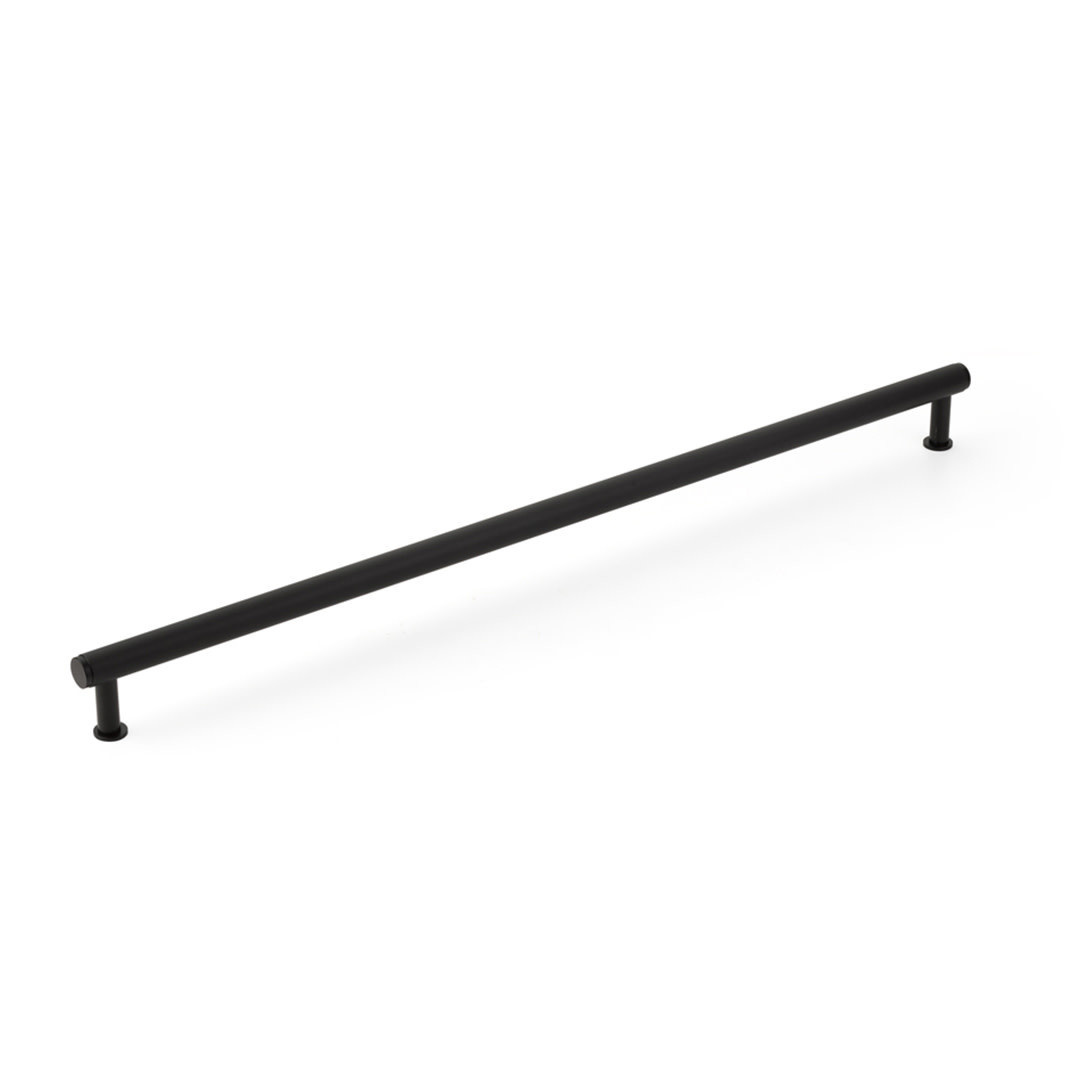 Belwith Keeler Avenue Appliance Pull - The Avenue collection applies a minimalist approach to the deliberate, function-focused designs found in urban engineering; the resulting shapes are simple and elegant. The perfect accent to your cabinetry.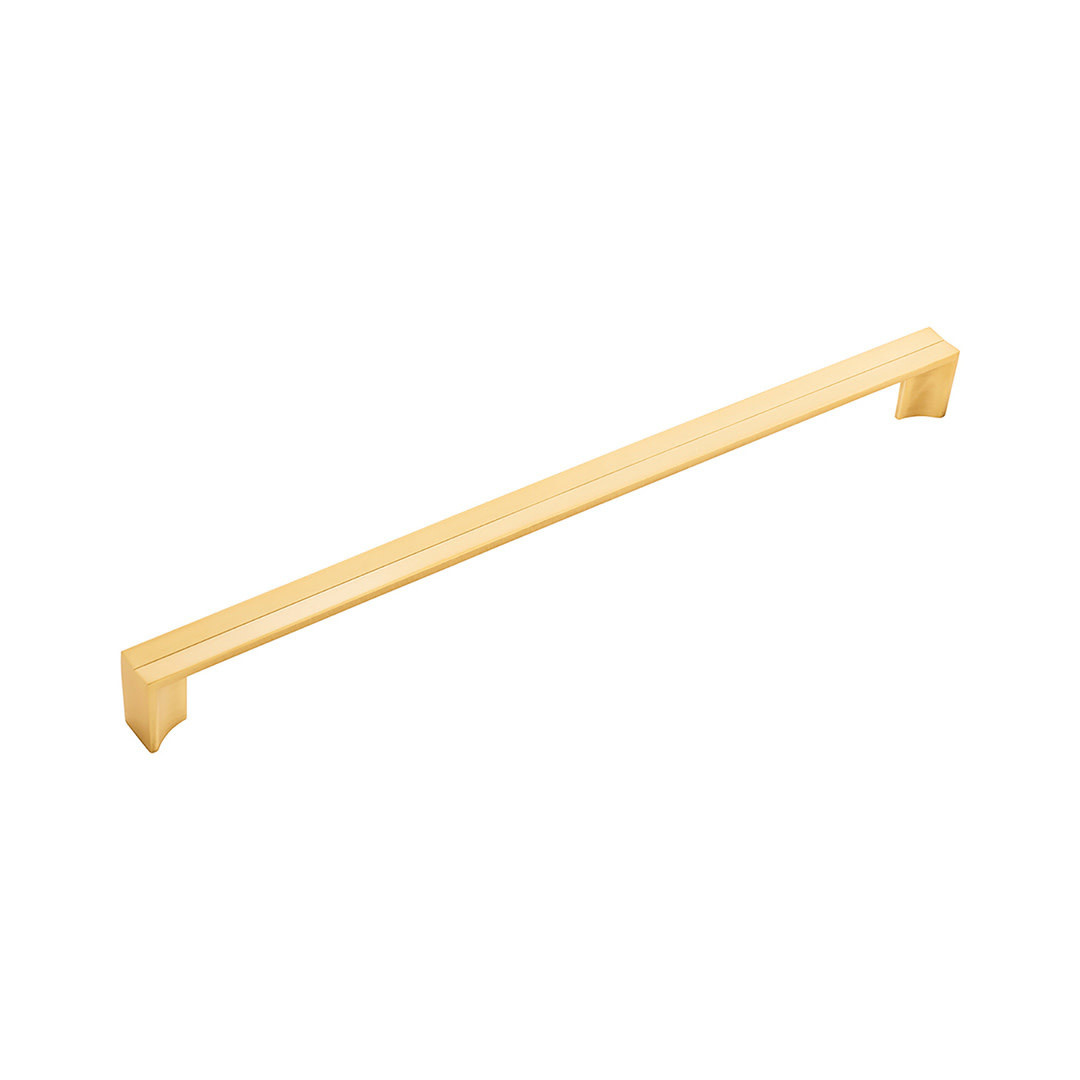 Customizing your appliances to suit your exact style is a great way to ensure that your design flows through each aspect of your kitchen. However, it can seem like a bigger expense than perhaps you may be ready for. Whether you're ready to change all your appliances to have appliance pulls, or you're just curious about exploring some of our longer cabinet pulls, we're here to help you find the perfect cabinet and appliance hardware for your kitchen.   
Explore
Appliance Pulls
online at Handles & More!