Commonly we hear "what size cabinet handles should I pick?" and "where should I place them?".

There are no hard and fast rules to how to size cabinet pulls and placement, however there are a few tips and tricks to help figure out what cupboard handles will work for your cabinets.
Before we dive into the specifics, let's cover a few common terms that you will encounter when looking to install cabinet hardware:
Center-to-Center: this is the term for the measurement between the center of each of the screw holes. This is the most common measurement to look for when shopping for new cabinet hardware.

Overall Length: the distance between each end of the pull. This measurement will always be longer than center to center and is important to consider when looking at the length of your cabinetry.
Projection: the term to describe the space between your door and the handle. This is important to note to ensure that your handles do not interfere with the flow of doors in your kitchen.

"Choosing the right decorative hardware for your cabinets requires a balance between functionality and style. The knobs and pulls you select will effortlessly tie your space together when coordinated with the relative scale of your cabinet doors and drawers."
Cabinet Knobs or Cabinet Pulls? Maybe both!
Your first step in determining your cabinet hardware is to determine if you will be using knobs, pulls, or a combination of the two.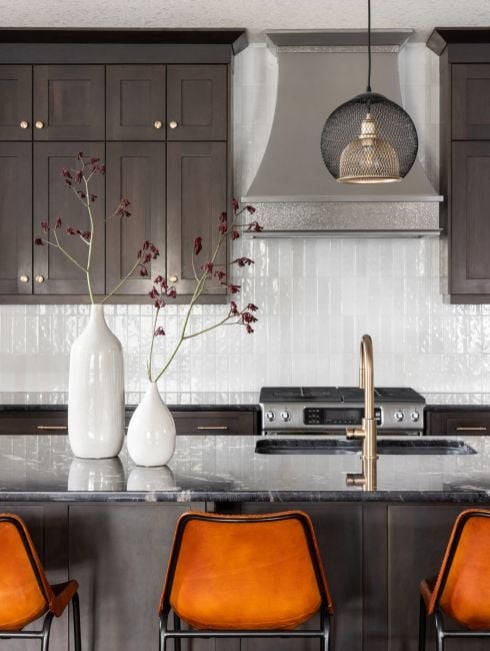 Source: Alykhan Velki Designs Inc.
"Handles are all about form, function and beauty. When selecting handles, make sure you are choosing something that feels comfortable and works scale wise with your cabinets, especially in a kitchen." – Aly Velji, Principal, Alykhan Velji Designs Inc.
There are a few common variations to follow, or you can mix it up to match your style. There are no limits when it comes to your hardware choices.
All Handles
A common choice for a more modern kitchen, however this style is seen across a variety of styles. Pulls are a great choice for arthritic hands, as knobs can be a little trickier to grab. There tends to be a larger selection of kitchen cabinet pulls as well, giving you some more choices when trying to find your hardware style.
All Knobs
Looking for a more subtle hardware choice to show off your cabinetry, or another accent piece in your kitchen. Knobs can be a great choice for minimal hardware to let the rest of your kitchen shine. Now the question may arise, where to place knobs on cabinet doors? For a more contemporary feel, the knob can be placed lower on the door, whereas traditionally the knob sits higher on the frame.
Knobs on Upper Cabinets, Handles on Lowers
If you are opting to use both styles of hardware, you might wonder where to put knobs and handles on kitchen cabinets? This is one of the most common uses when installing knobs in the kitchen. As the base cabinets tend to be large drawers and doors, a handle may be the best option for placement on the larger cabinet fronts. If your upper cabinetry is smaller doors, and you don't want to overwhelm it with a handle, then a knob may be the perfect choice for minimal hardware, that compliments the larger pulls below.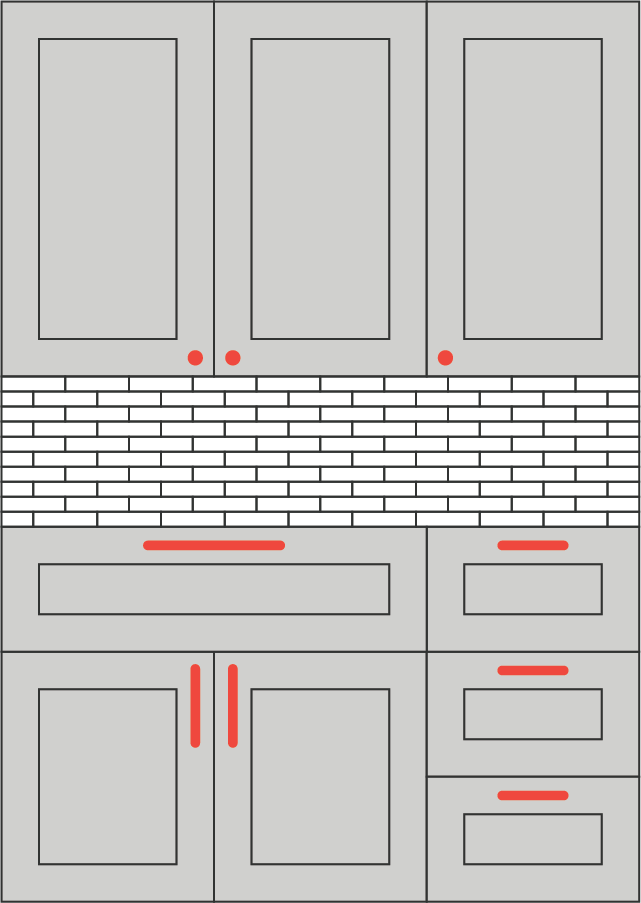 Edge Pulls
If you are wanting to put cabinet handles on all your cabinetry, but are still wanting the minimalist look, we recommend edge pulls as great option to conceal your hardware, but still have all the functionality of a handle.
How to Choose Cabinet Hardware Size and Determine Handle Placement
You've chosen your layout for hardware, now comes the question of how to size cabinet pulls?  There are a few suggestions to keep in mind that can help narrow down your choices and ensure that you pick proportionate hardware for your cabinet doors and drawers.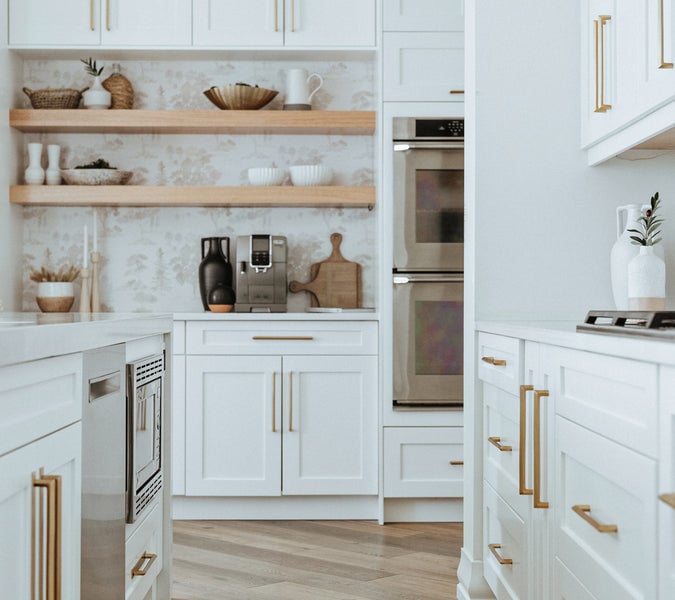 Source: Koehn Design
"There really is not a golden rule, and I find when people try to put any element of home into a rule box, hardware especially, they miss out on the wow factor… Go larger scale, mix up the hardware in your kitchen, don't be matchy matchy, think of hardware like jewelry… it is allowed to stand out. And most importantly- it absolutely does not have to match your lighting or plumbing finishes. Let it shine on its own." – Amy Koehn, Koehn Design
Before deciding on an exact size for your handles, there are a couple layout options to consider that will help decide how many sizes you need to choose from.
Consistent Handle Sizing
Opting for one size handles throughout your kitchen can give more of a traditional look. For this look, the most common size would be 128 mm handles. This size is still small enough for the upper cabinet doors, while still having the length for the larger drawers as well. If you opt for consistent sizing, but are worried about your larger drawers, a common solution is to add two handles on the wider drawers.
Longer Lengths on Longer Drawers
If you are worried about your handles getting lost on the larger drawers, you can use a single longer cabinet handle for those drawers that are a bit bigger. Creating a more modern feel, these larger pulls on drawers add a contemporary touch to your kitchen. Some common longer lengths of handles for these drawer fronts would be 192 mm or 224 mm center to center.
A guideline to keep in mind is the rule of 3's when choosing a larger size. Look for a cabinet handle that is roughly 1/3 the length of the drawer for even spacing and handle placement. Keep in mind the overall length for this rule, especially with a handle such as bar pulls that extends beyond the center-to-center measurement for some added length. If you are opting for different size pulls on your drawers and doors, we typically recommend sticking to about 3 different sizes. This gives you the variation for sizes, without overwhelming your cabinetry.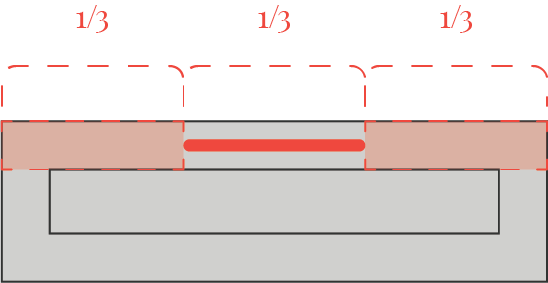 Something to keep in mind throughout this process is that there are no strict rules to any sizing or hardware placement. Most importantly it comes down to your preferences, and what works best for the flow of your space. If you're not sure about a choice, try out our sample program and take a few options home to try out. We are here to help make sure you are completely satisfied with your hardware choices.
Ready to get started planning your project? Let's explore our cabinet hardware options!
Also, check out how to Modernize Your Kitchen with Marathon Hardware!