If your name is Susan, our sarcasm is not aimed at you…unless you're lazy.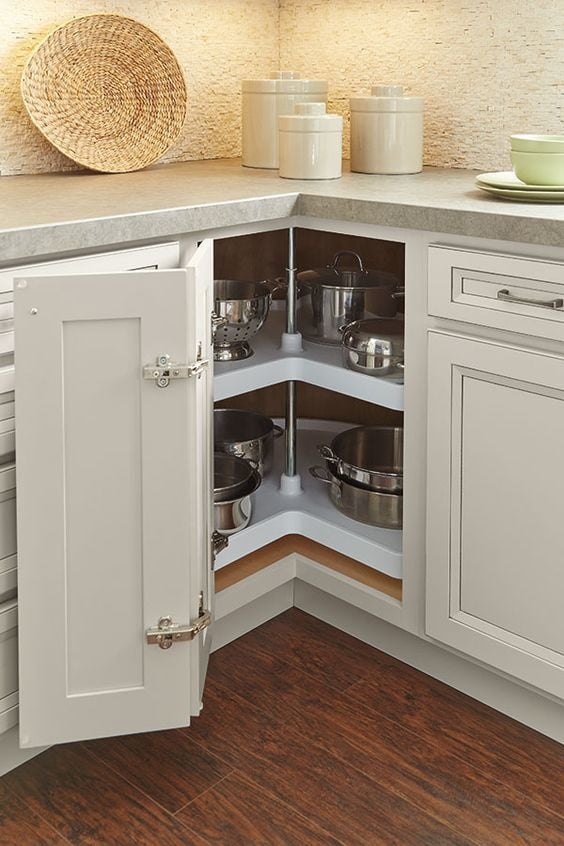 Source: Home Crest Cabinetry
Where Does Lazy Susan Come From?  
Everyone's wondering, "where does the term "Lazy Susan" come from?". Why not call it "Slow-Moving Scarlett" or even "Good-For-Nothing Gary"? And who the heck is Susan?  
As the myth goes, American President, Thomas Jefferson, invented it and named it after his lazy daughter…or something like that, anyway, it clearly caught on. In reality, it's probably just like the saying at movie theatres, "Don't be a 'Texting Tommy'". No, this whole blog is not about why it's called that or where it came from. We hope to answer questions, make you laugh and help you with your corner cabinet Lazy Susan problems.   
Why that device is called a lazy Susan is beyond me. If all I did was lose things and run around in circles I would likely not be deemed lazy but perhaps Dizzy.    

Maybe the name should be dizzy Lizzy.    

In any event, I have neither had someone request a lazy Susan nor a dizzy Lizzy. They should both be banned from ever entering a kitchen!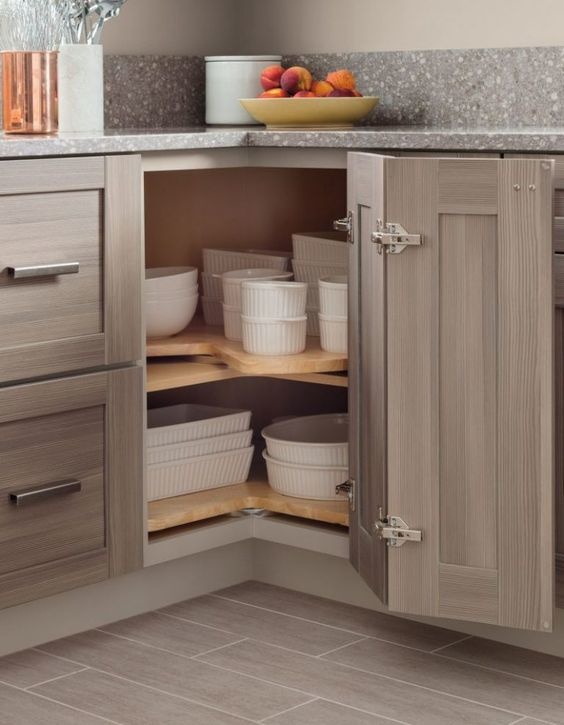 Source: Kitchen Cabinet Kings
Regardless of why it's called Lazy Susan or where it came from, it's the best solution for any corner cabinet that we all love to hate. There are a few different types of Lazy Susans:   
The Famous Turntable - it's like a kitchen DJ, aka your mom (…did we just say "your mom"?)   
The Kidney-Shape – why do they even call it that? It makes us feel uncomfortable.   
The Half Moon or Half Round – there's nothing we feel the need to get off our chest about this one   
The Full Round – They should call this one a full moon Lazy Susan…missed opportunity   
The Super Susan – (queue John Cena intro theme song)
We aren't going to be addressing the turntable Lazy Susan in this blog, it gets enough attention, it's time to share the spotlight with the rest of the family. You know the ones, your Lazy Susan's for pots and pans.  
Lazy Susan Finishes  
The Lazy Susan comes in a variety of materials and finishes. The most common materials are:   
Plastic – This is by far the most common material mainly because it is the most affordable.   
Metal – the runner up as it has the benefit of increased durability.   
Wood – This is one of our favourite materials as they often come with a melamine finish that decreases things sliding around. Maybe, if the world only had these, we'd find fewer beans in the black hole that is the back of our corner cabinets.   
Lazy Susan Options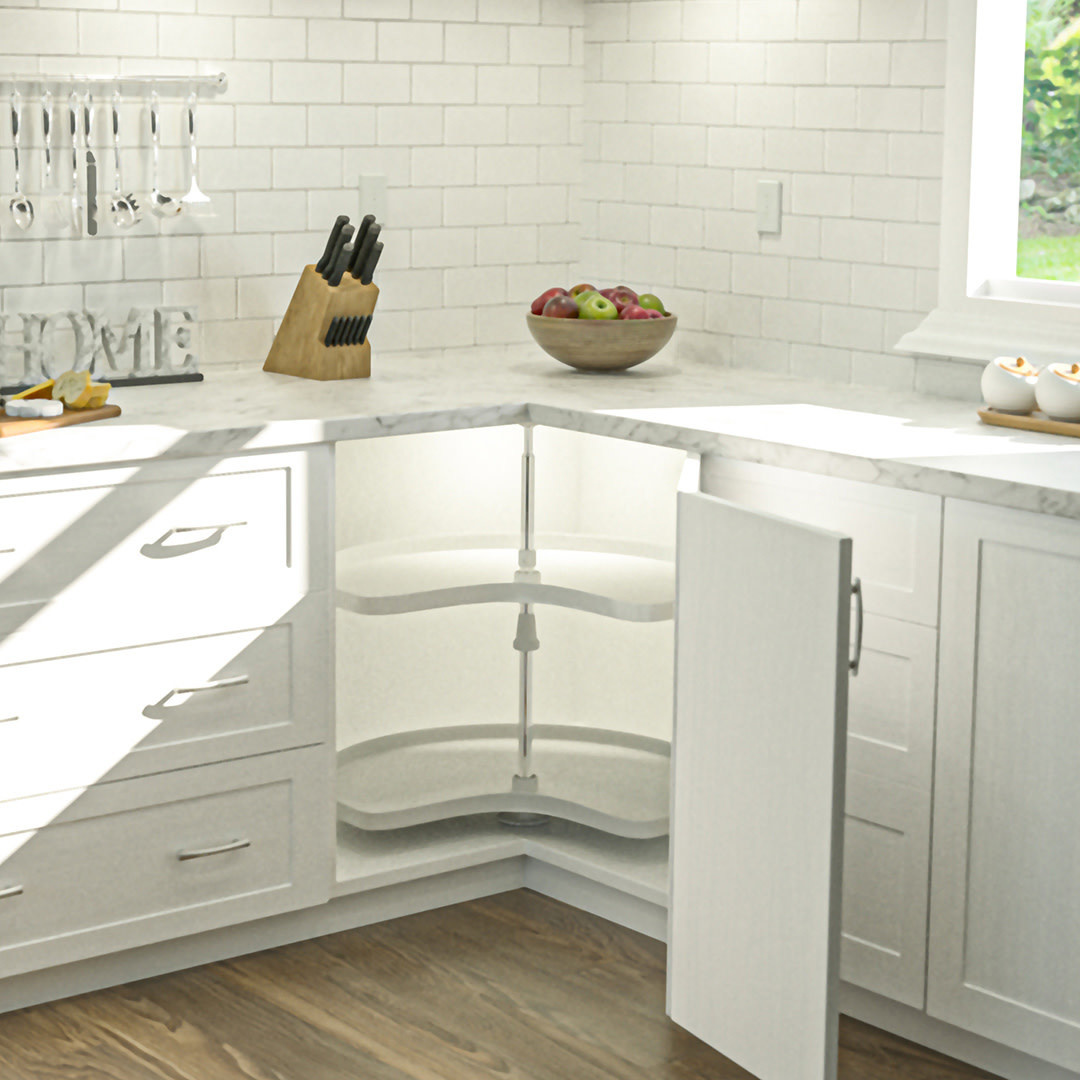 So let's talk about the solutions. Firstly, the classic Plastic Kidney-Shaped (seriously, why, just why?) Lazy Susan organizer. What is there not to love, other than the name-sake of this particular corner cabinet Lazy Susan? It comes in three standard sizes; 24 inches, 28 inches, and 32 inches. We'll get into some nitty-gritty details here so feel free to skip to the next point if you've got all the info you want. It's the classic white plastic that brings us back to our childhood, standing at our mothers' side hoping she can reach that can of beans that fell off the side. "What kind of kid wants a can of beans?" you may ask? We had a tough childhood, ok?).  
It has the perfect amount of slip to the surface at an unbeatable price. It might be a frequent flyer of the syrup spillage express (unless you're one of those weirdos who refrigerates their syrup…what is wrong with you?), but that is just part of the magic of these corner cabinet organizers, where would we be without them? It comes with two shelves and an adjustable height of 21 inches to 33 inches.  
If you have any serious questions, give us a call and we'd be happy to answer them. If we don't have the answers, we'll help you find them.   
Pros:   
It's affordable

Parts are easy to find

 
Cons:   
Everything gets rearranged every time you open it. It's a terrible nightmarish Rubik's cube.

Why is there a can of beans in the black hole?
Full Round Lazy Susan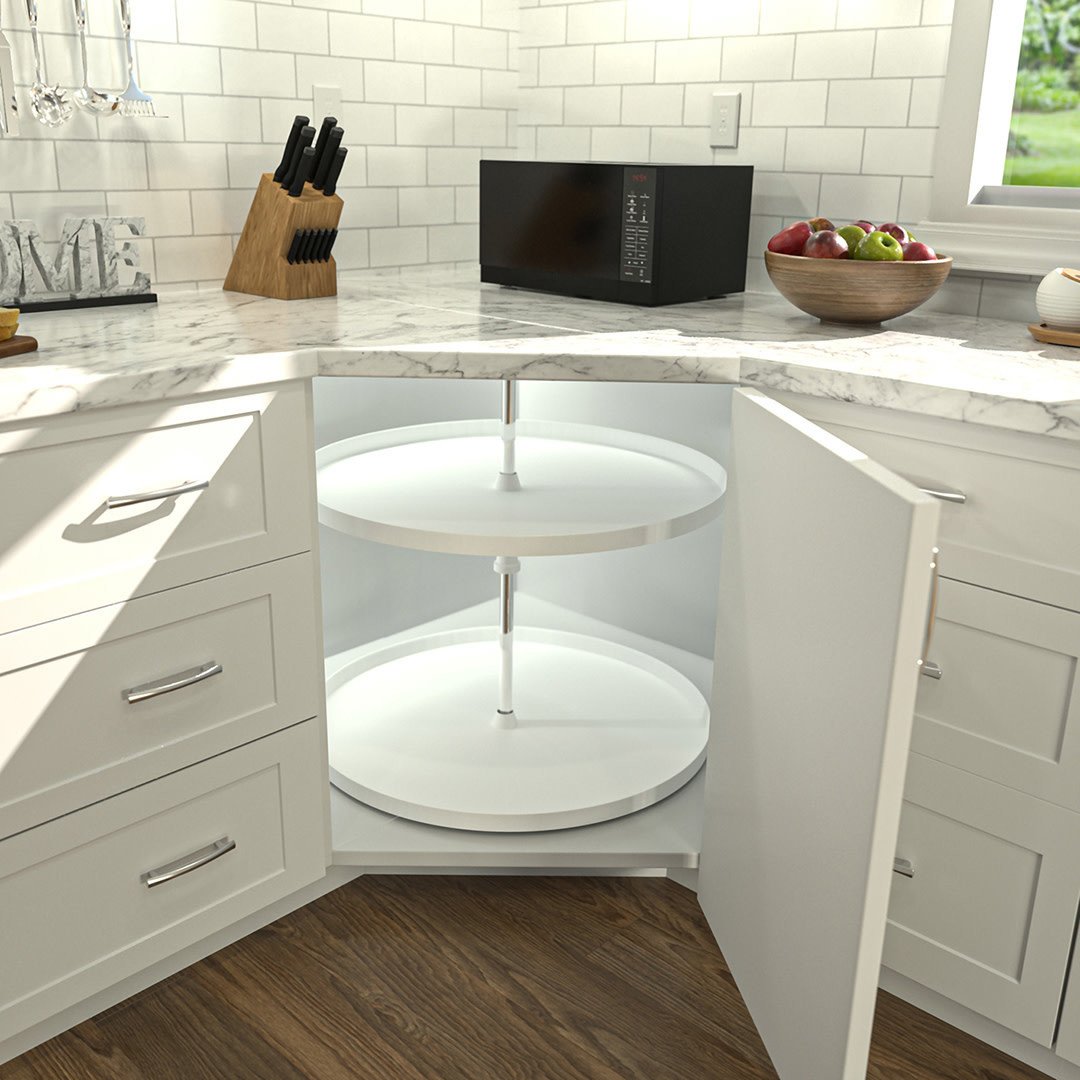 The second corner cabinet organizer we want to spotlight is the Plastic Full Round Lazy Susan which has all the same features as the classic plastic kidney-shaped Lazy Susan but it's, yep you guessed it, a full circle. If you have a 45-degree corner cabinet instead of the standard 90-degree corner cabinet, this is the Lazy Susan organizer for you.   
Pros:   
It's affordable

  

 

Parts are easy to find

 
Cons:   
There's nothing sexy about white plastic.

  

 

It's less common to find 90-degree corner cabinets.

  

 

Again, why is there a can of beans in the black hole?

  

 
Super Susan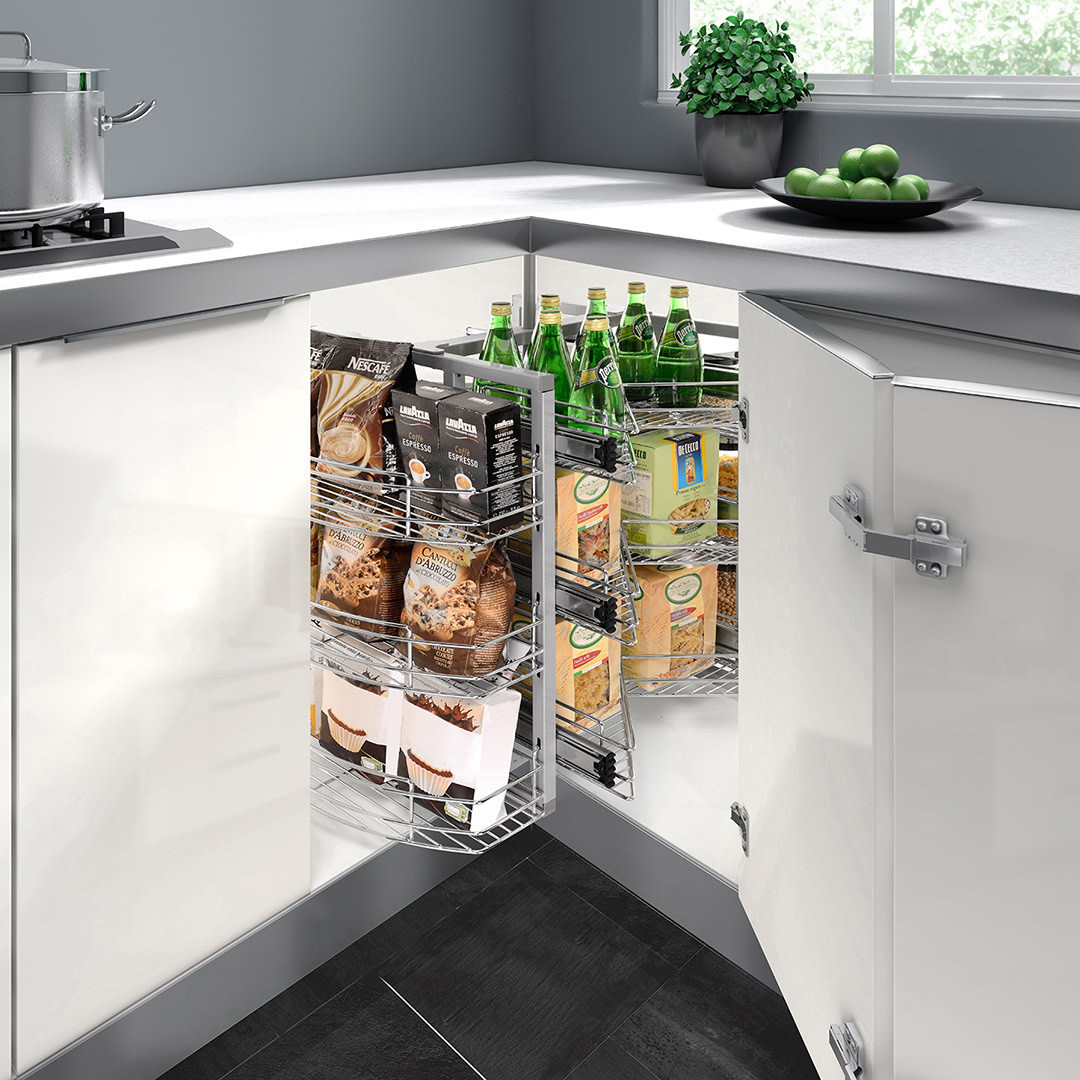 On to the next one – time to drop the lazy, let's talk SUPER. Can't you hear the John Cena theme song blasting? The Super Susan is the bee's knees of corner cabinet organizers. With twelve baskets, yeah we said twelve, for storage, this chrome-finished wire Super Susan is the perfect solution. It doubles, no, sextuples the classic Lazy Susan organizer's capabilities! With options for 45-degree and 90-degree corner cabinet solutions, it's a no-brainer.  
The only catch with this one is that it requires a 37 inches Lazy Susan cabinet opening which isn't standardized, but if you're working on completely redoing your kitchen or an entirely new build, this is the way to go. No more canned beans black hole in the back of your corner cabinet. We're not going to leave that alone.   
Pros:   
It's called a SUPER Susan!

  

 

It has twelve freakin' shelves that all pull out

  

 

You will never lose anything again or have to clean the shelves

  

 

Luckily, it's not susceptible to kryptonite

  

 
Cons:   
It pretty much needs to be spec'd at the building stage.

  

 

It's less affordable than its classic relative

  

 
Kidney-Shaped Lazy Susan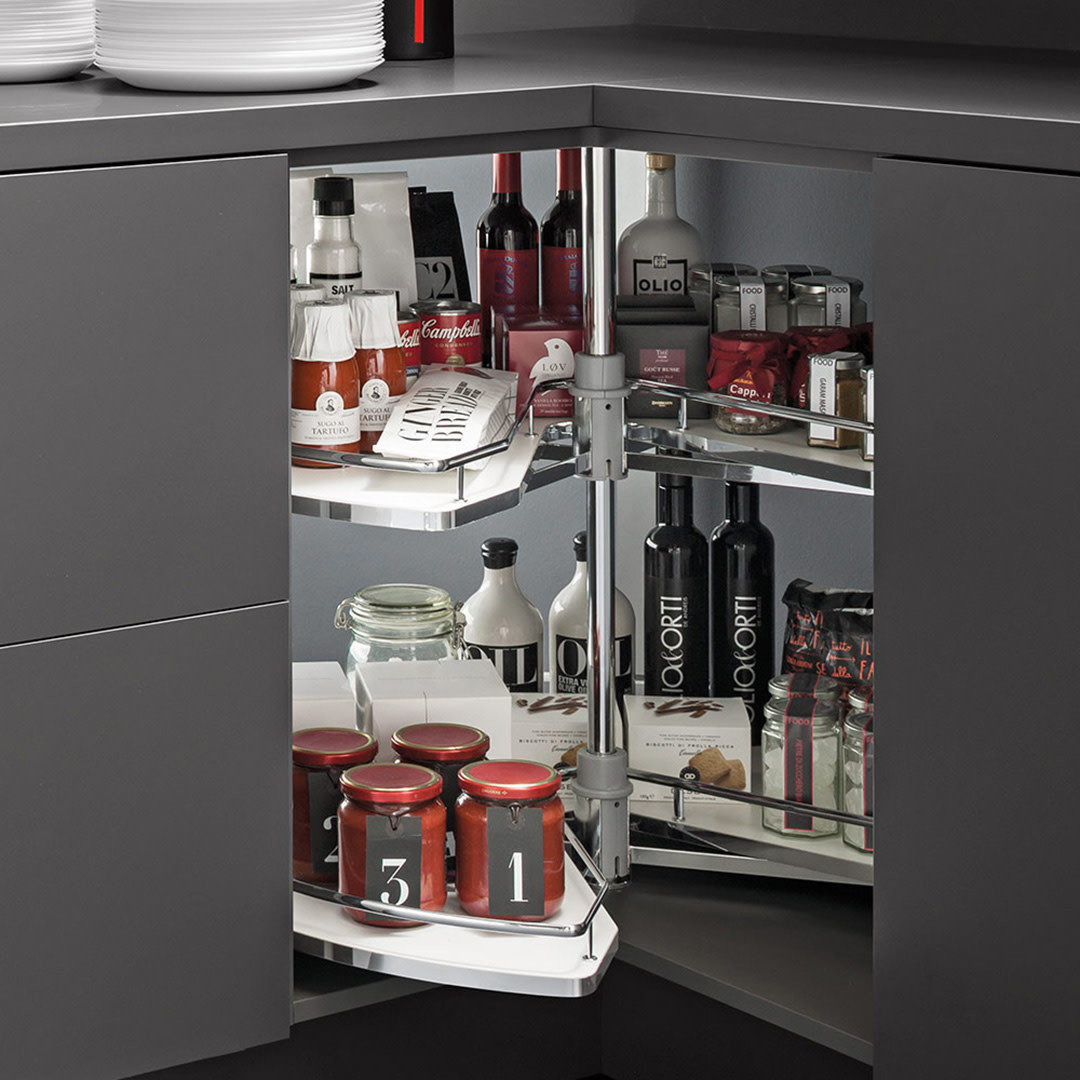 The final corner cabinet organizer we think you should know about is Vibo's Galaxy Series Kidney-Shaped Lazy Susan. It comes in a standardized 32 inches for the most common homes and an adjustable height of 25 inches to 28 inches. It's so sleek, it's almost unrecognizable as a Lazy Susan. It has two shelves that are finished with anti-slip melamine.  
It's available in two weight capacities and three finish combinations for the shelf and the railing (white and chrome, maple and champagne, and anthracite dark grey for both, respectively), it'll make you want to import your olive oil from Italy and your spices from India. It will probably make you want to change your whole lifestyle, really—no more cans of beans. You've made it. It's that good.   
Pros:   
It has an anti-slip bottom so there shouldn't be any mess

  

 

It looks so good; you'll be tempted to eat off of it.

  
Cons:   
It costs as good as it looks

  

 

It looks so good; you'll be tempted to eat off of it.

  

 

It still has "kidney-shape" in the title, c'mon, just use the Italian word for kidney: "rene"

  

 
Check Out Our Lazy Susans  
If you've made it through this whole blog without getting lost in our sidebars or getting offended by our sarcasm, we should give away a prize. We should, but we're not going to. In all seriousness, we're happy to answer your questions, figure out your best solution or point you in the right direction. Feel free to browse other corner cabinet organizers solutions we carry! 
Disclaimer: No Susan's were meant to be harmed in the writing of this blog. 
Lazy Susan FAQ (Cheeky Bonus)  
Have time for a quick FAQ? We just want to take a minute to answer those questions that have been nagging in the back of your mind.   
Did I just grab salt or sugar?

 We suggest doing a taste test. If you don't like that solution, we'd recommend investing in a label maker and slapping a label on those look-alike baking ingredients.  

 

How the heck is my entire kitchen is stuffed into the corner?

 We're all asking this and we're still looking for the answer. It's probably the middle child.  

 

It won't even open anymore? 

Just fake a house fire and claim your insurance for arson.  

 

How to babyproof a lazy susan? 

There's no hope for you. Sell the baby or see our answer above.  

 

How big should my corner cabinet lazy susan be? 

Typically, Lazy Susans' are 4 inches smaller in diameter than the size of the corner cabinet.  

 

Where can I buy lazy susan hardware?

At Handles & More! Shop

here

. 

 

Where can I replace my lazy susan hinges?

Also from us

here

! People replace them with us all the time.